Posts tagged
Smoking

When you spend as long as I do hanging out on sex positive blogs, it's easy to forget just how much attitudes can vary outside that bubble. I was intrigued to stumble across this post quoting a Mormon on the subject of sexual compatibility. He was a virgin when he married, as was his wife, and he looks on that fact as a plus…
If we had "shopped around" or experienced sex with many different people, it would have ruined the beauty and simplicity of what we have.
I'm going to guess most of my readers will react as I initially did to this, which was to laugh and wonder how ignorance can possibly be a good thing. How can he make any kind of informed judgement? Maybe they're having really bad sex and have no idea it should be any different.
But then it got me thinking about the relative nature of happiness. There are few absolutes when it comes to assessing satisfaction and quality of life. For example, studies have shown that when it comes to wealth, happiness isn't related to the amount you earn, but how much you earn relative to your social circle. Being the 'poor' person in your group makes you unhappy, even if your absolute income is high. Knowledge in that case makes you unhappier. So if a couple are happy having mediocre sex, is that a bad thing? Are you better off not knowing what you're missing out on?
Obviously the ideal state is to know for sure you're having great sex! And as an information junkie, I think I'd always rather be informed, even if it made me more aware of problems. But it's an interesting angle to ponder, particularly when I reflect back on life and the 'might have been' situations. I often feel regretful that I waited until my 30's to act on my kinky inclinations. I feel I lost a decade or more where I could have been enjoying all BDSM has to offer. Yet, the knowledge of the pleasure it brings me has undoubtedly complicated my life. It makes dating and finding a suitable partner a lot harder for a start. Would I have been better off not knowing? Leaving that side of myself alone? Most of my friends have married over the last few years and started families. Could I have been happy in a vanilla relationship? Will I ultimately look back on my exploration of kink as a curse rather than a blessing? I hope not, but as Einstein observed, knowledge can be a dangerous thing.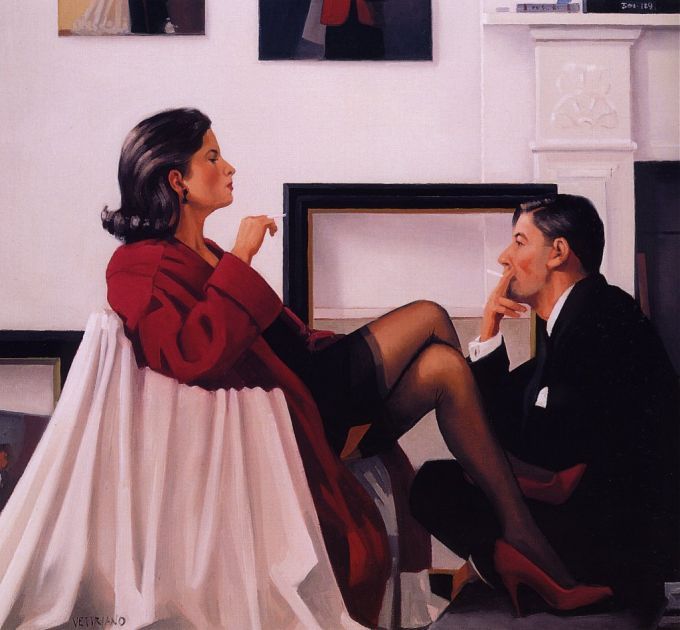 The image is by the Scottish painter Jack Vettriano. A lot of his work has a sexual and kinky vibe to it, and he's obviously got a fetish for 50's costumes and high heels, although not typically with a femdom slant. There's more background on him available in this article.