My previous post on male lingerie got me thinking about the topic of forced feminization. Specifically the always controversial variant that targets humiliation and embarrassment. It's not my kink. I actually like the idea of transformation, but humiliation is never an interest of mine in any kind of play. However, I am confused by some of the opinions I see on it. As often happens, I find myself approaching it from a slightly different perspective.
A widely held view is that it's misogynist. Why should someone be humiliated by wearing clothes than women commonly wear? If the clothes demean the wearer in the submissives eyes, and he expects women to wear them as a matter of course, therefore women must be always be demeaned in his eyes. There are lots of blog posts along these lines floating around. For example, two minutes archive hunting took me to this one by Stabbity and this one by Peroxide.
I think it's certainly true that this type of play can be misogynistic, but is it always? That seems to make a very crude assumption about the transitive properties of clothing and context. Circumstances and social norms would seem to matter. For example, make me do a presentation at work tomorrow in Lederhosen and I'm going to be pretty embarrassed. Not so much if I was at Oktoberfest. Or stick me in a sparkly skintight leotard in the middle of some ice, and I will undoubtedly be humiliated. That doesn't mean I look down on female figure skaters. Their abilities amaze me.
Being ashamed of very conventional everyday clothing would be a red flag. But typically it seems the people adopting that look are not into the humiliation kink at all. They're trying to be as convincing and as feminine as possible (for example). The typical forced feminization outfit is the kind of over the top provocative clothing that's hard for anyone to pull off with flair, let alone a hairy, overweight middle aged guy. Are they getting off on the humiliation of women's clothes? Or are they getting off on wearing a highly sexualized outfit that makes them look silly (and happens to be women's clothes)? If I think a french maid outfit on some guys looks ridiculous, does that make me a misandrist?
I'm not trying to argue this kind of play is always non-problematic. It definitely raises some complex questions. But I do think the logic of the view that 'positive crossdressing=good' and 'forced feminization=bad' is a bit simplistic.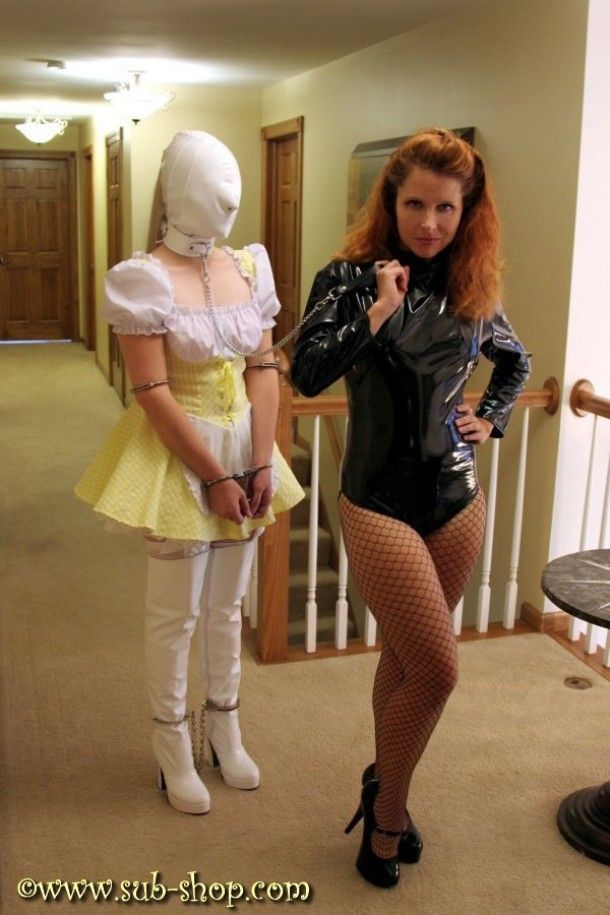 The original source for this image appears to have vanished. I'm assuming it's an Fm shot, but thanks to the hood it's actually hard to tell. I think the anonymity of it makes it kind of hot. Is this the good or the bad sort of forced feminization?