Bacchus, over at ErosBlog, has been quite rightly mocking a porn shoot that promises a cock being disciplined with the following lines…
I am going to be disciplining Rob Piper's humongous black cock. You know where I'm gonna start? With that big black cock up my ass! I can't wait to take that cock in all my holes.
I'm sure Mr Piper's cock is just going to hate that. It'll probably get all big, angry and throbbing after being disciplined in such a terrible way.
Of course, while this is a particularly egregious example, a lot of BDSM play exhibits a touch of this. It's briar patch syndrome – Oh please don't dress up in that sexy outfit and gently whip me (not too hard!) with that soft leather flogger. It'd be terribly cruel if you were to use that strap-on and – down a bit, no not there, careful, oh yes, oh yes! – brutally penetrate my helpless body with it.
In reality, a close-up of a disciplined cock isn't all that sexy. For example, Mistress Tess tortured mine a few weeks back. Needles and electricity were involved. We shot a picture, but only look here if you're OK with genital piercing pictures. I had a lot of fun, but I'll be the first to admit it's not the kind of close-up image that'll sell a lot of porn subscriptions. The shot below is a bit more visually appealing while at least having a slightly more believable cock discipline theme. I bet it's loving it really though.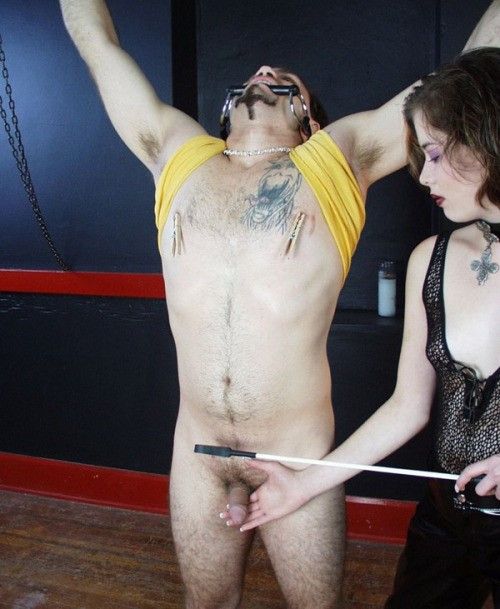 I'm afraid I don't have an attribution for this image.