As I mentioned in a previous post, I was lucky enough to get not one but two sessions on my current trip with the amazing Mistress Tess. We split them as 2 hours and then 4 hours, with my original thinking being that we'd start with a gentle warm-up and then get into the heavier stuff in the longer second session. In the event we started with intense and awesome, followed by even more intense and even more awesome, which turned out to be just fine with me! There was a lot of bondage in both, but we only snapped photographs in the second one.
That second session started with a leather body bag, and straps, and rope, and more straps, and some locks, and then more straps. This abundance of leather and bondage was complemented by some electrics attached to the only skin showing – the cock and balls. You can see all this in these images – torso, angle, side and close-up. I should add that throughout this Mistress Tess was spinning an imaginative medical experimentation fantasy, with me as the object at the focus of it. Apparently amputation and castration might have been in my future – but luckily, this time at least, I escaped with all parts intact.
We then moved on to some metal bondage on her pegboard bed, as shown in this overhead shot. I'm sporting some particularly sexy boots, and the metal spheres just in frame at the bottom are actually enclosing my hands. The metal creates an interesting head space, as there's a little more initial wiggle than ropes or leather, but at the end of the wiggle it's hard and immovable metal. Everything's bolted down, so you feel very much part of the apparatus, rather than simply held by it. While I was bolted into place, Mistress Tess took the chance to do some piercing and continue to zap my delicate bits.
Finally, we did something entirely new to me  – a wet pack. This consisted of multiple cold wet sheets being wrapped around me to swaddle the body.  As a newbie to the process I got the lightweight version, which didn't feature sheets that had been kept wet in the fridge for hours, but it was a still a major shock to the system. Apparently a wet pack is a genuine medical 'treatment' that used to be used in asylums to restrain/cure/punish patients.  Tess being the bondage aficionado that she is, didn't just stop at sheets, as leather straps and then plastic wrap were added to finish the encasement off. You can see the final result in this image and this image. Luckily, body heat eventually warms the sheets, so it becomes almost relaxing. I say 'almost relaxing' because of course, with Doctor Tess in the clinic, the restraints are only the start of the procedure…
It was a genuinely awesome experience, and I was giddy and burbly for many hours afterwards. The technical elements of the play were exceptional and, as I mentioned the last time I played with her, Mistress Tess  is also brilliant at spinning a verbal fantasy. There was a lot of tease, denial and creative sadistic storytelling to go along with it all.  It's unfortunate that I live a 6 hour flight away, otherwise I could see myself spending a lot of time as a specimen in her laboratory of kink.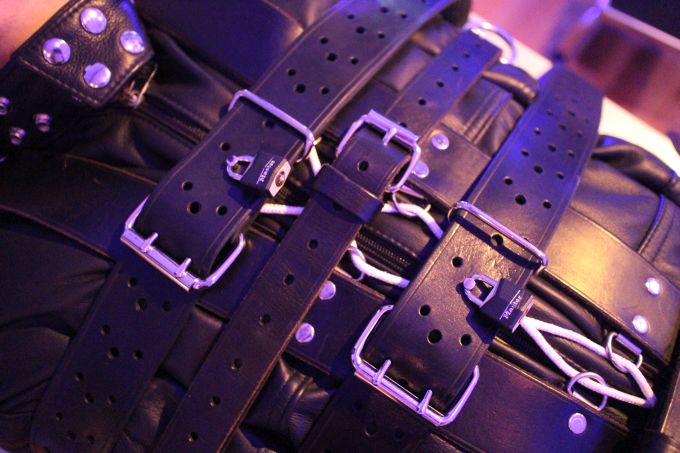 This shot is a close-up from the first scenario. You can see the white rope pulling the body bag tight, with the padlocks locking the straps into place.
If you're in the NYC area and interested in seeing Mistress Tess, then her professional site is here and her twitter here. If you can't make it to NYC then her OnlyFans account has a lot of great content and is here.