I'm going to do something fairly foolish in this post and disagree with someone who doubtless knows their business far better than I do. Not to mention someone who lives locally, swings a mean single tail and could almost certainly kick my ass. I'm talking about Domina Victoria Rage and her recent post on safety and screening when setting up pro-domme sessions.
There's a lot of good information in it, but I do have to take issue with her suggestion that clients should always use aliases. She goes onto say…
Come to me with a real sounding first and last name and that's a red flag that you might take my privacy as lightly as you've taken your own.
There's no reason on the planet why personal information should be exchanged on either side, anything you say is a gamble because both of you – just by seeing each other – are in a position to do damage to the personal life of the other.
Anyone I session with, or even just meet, will know my real name. I'll typically provide it in the first few exchanges of emails. And a domme who expects me not to do that creates a red flag of my own. It suggests to me that she'll not take my privacy seriously and that the onus is on me to always guard information from her. I'm absolutely sure that's not the case for Domina Victoria, but I would find it really weird to not use my real name with a domme when I'm trusting her in so many other ways during a session. I would feel inauthentic.
While using an alias is pretty much universal for pro-dommes, it's certainly not for clients. Some dommes demand a photographic id before a session, or will take credit cards, which instantly rules out fake names. And personally I don't buy the argument about creating risk to personal lives. I'd be much more worried about crazy ex-girlfriends than pro-dommes. The former typically know your social circle, know your intimate sexual secrets and may have nothing to lose by spreading gossip. That's a scary mixture. In contrast a pro-domme sharing information risks her professional reputation and therefore her livelihood. She has a strong incentive to keep information private. I'm not saying it has never happened, just that as things to worry about, it's way down my list.
As an entertaining side anecdote on identify and verification – I once had someone complain that my professional linked-in profile didn't have enough contacts. I had a 100 or so listed, but she said she preferred to see 200+ before she trusted it! This was someone I've never mentioned here, and someone who crossed a few of the legal lines that pro-dommes are typically so strict about. She was therefore far more concerned about legal entrapment and demanded strong proof of identity before she'd meet. I was highly entertained by the fact that my long neglected linked-in profile might suddenly be a kinky sex deal-breaker. I wish I'd know that when I was busy deleting all their spammy emails to update it!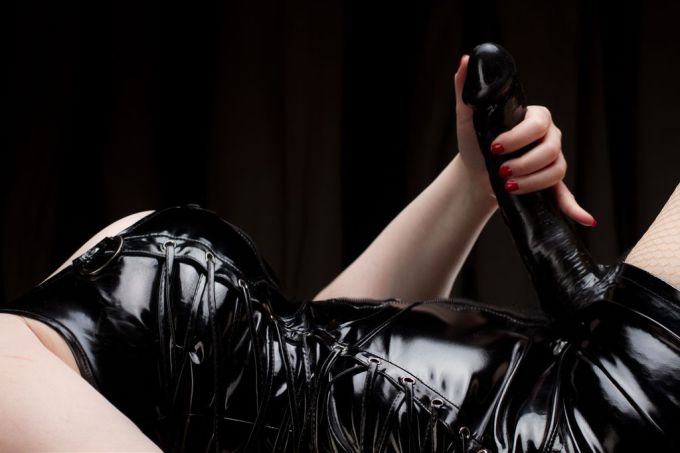 I'll leave you with a shot from Domina Victoria's blog. I love the contrast of the white skin, the red nails and the big glorious cock.