This post on sex and technology by Girl on the Net reminded me that I meant to write more on VR and Femdom. A few weeks back I posted my observations here and here on the current state of the art. I thought I'd followup with a couple of posts on my ideas for the future. Tomorrow I'll tackle how it might lead to new types of sexual interaction. For today I'll focus on a type of sensation play I think is perfect for VR – electrostimulation or e-stim.
I was lucky enough to enjoy a variety of e-stim play on my recent Vegas trip, and it reminded me how versatile it is. Keep it low and it's almost like a pleasant tickling. Build it up in continuous waves and it can induce stress and sensory overload. Sudden sharp bursts are almost like canes or whips in the focused intensity. Use in with an insertable probe (like an electrified butt plug) and the muscle contractions can create a kind of thrusting/fucking sensation. I wouldn't claim it's a direct substitute for other kinds of play, but it does offer a uniquely versatile range of stimulation.
The tricky part with e-stim is getting it working properly. Sticky contact pads often have cheap connections and broken wires. TENS units are limited in functionality, tricky to set up and (in my experience) plagued with dead batteries. Every domme I've played with, no matter how organized and well equipped, always seems to be spend a bunch of time fiddling with connections and I trying to figure out why cranking the dial to 11 doesn't get so much as a whimper out of me. I think it's an area ripe for a high tech solution.
On the flip side, when it comes to VR, BDSM and haptic devices, there choices are pretty limited. There's all manner of vibrating plugs, sleeves and insertables, but not a lot else. I've nothing against a good buzz applied to the right spot, but it doesn't exactly scratch my masochistic itch. How about a wearable, custom designed and computer controlled e-stim device?
I'm imagining a tight rubber vest, completely interwoven with a grid of wires, wrapping all around the torso. They'd be insulated from each other, but would touch the flesh every half inch or so with a small contact patch. A connection at the bottom would hook the vest wires to a PC driven switch system and powerful multi-channel e-stim device such as an ErosTek. The e-stim device would provide the charge and the computer software would rapidly switch it across different combinations of wires to create different sensations. It could create delicate sensations that gently traced around the body. Or sharp lines of pain that shoot across like a cane strike. Or big waves of shocks that hit in a single point and then radiated out. Smart software could either coordinate the effects with the VR world  or allow another person to control it in realtime. It wouldn't simulate human touch, or the sensation of specific implements, but it could produce complex and consistent sensations that correlated with behavior in the virtual world.
I'm possibly certainly unusual, but I'll take a jacket that'll shock me in strange and unusual ways over a pleasant buzz in the genitals. I just hope there's enough technology loving kinkster out there like me to make it worth someone building and selling it.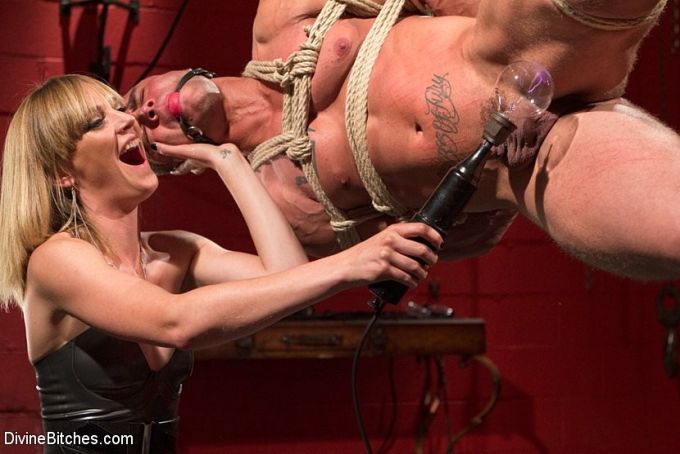 Here's someone enjoying some strange and unusual electrical stimulation. No fancy high tech equipment required here. Just a lady with a violet wand – a device can trace its roots back to the 19th century. The image is obviously from the Divine Bitches site.