I recently purchased a HTC Vive Virtual Reality system. It's a technology I've always been interested in – I even worked on it back in the 90's – so I was intrigued to try out the latest and greatest systems. There are lots of companies investing in this space, including Facebook, Sony and Google, but the Vive looks to be one of the more advanced options right now.
Obviously, for the purposes of writing this post, I had to try out some VR porn. My readers deserve a proper investigation into the topic I thought. It would have been almost be selfish of me not to look at it. My top piece of advice for anyone in a similar research mode would be to buy the Virtual Desktop application. It makes browsing and running movies in different VR formats a breeze. When you have to deal with clunky headsets, headphones and twisty cables, the last thing you want to be doing is pulling it all on and off while you try and figure out why the naked people aren't showing up properly.
Based on the very limited number of movies I've tried so far, my impressions are mixed. It does undoubtedly give you a much greater sense of presence and of being 'in the scene' than a regular movie. Sometimes, with the performer close and talking directly to camera, it was almost uncomfortable, a sense that my personal space was being invaded. Taking the headset off can be quite disconcerting, the sense of being elsewhere is so strong, that coming back to reality is a jolt.
However, making it more real in one aspect also highlights how unreal it is in others. You can't touch. You can't feel. You can look around, but not move around. The actors can't interact with you. In that sense, it was much more frustrating that regular pornography. Watching regular femdom movies will often make me wish I could do a scene with the domme involved, but I never want to actually be in the scene I'm watching. It wouldn't make any sense to think that – it's obviously a movie. VR scenes did create that kind of frustration. I wanted to feel the pain, the pinch and the pull. I wanted that cock getting whipped to really be mine. Instead it was like my body had been anesthetized. Ironically, the virtual reality material actually created a greater desire to go out and play with real people in actual reality.
I'll follow-up with some more thoughts on this topic in a post tomorrow. In the meantime, here's a shot of Maitresse Madeline and Mike Panic in a cuckold scene from the Kink new VR studios.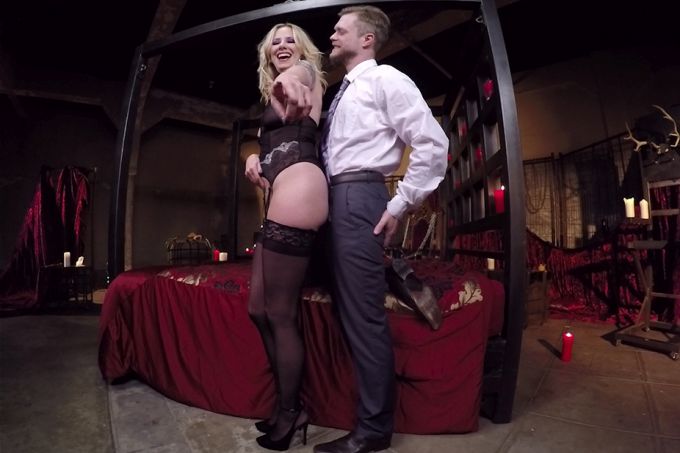 Oh, and 10 kinky bonus points (no redeemable value, offer not applicable in all States, participants must be over 18 years old) to anyone who can tell me where the reference in the title comes from. As a hint, it's a comedy reference.