There's a niche porn genre that focuses on men being turned into feminized depersonalized sex toys. Bruce Baker tends to specialize in that kind of art, and I've featured other illustrations of it in the past, for example here and here. Normally the art in this area tends to be fairly explicit, with lots of whimpering sissys, cruel dommes and big macho bulls.
This image therefore makes for an interesting contrast to that norm. It struck me as being quite clever. The room is depicted as being very ordinary, and yet there's the ominous locking bars across the door and a complete lack of furniture. The feminized toy isn't reacting with horror to her new appearance, or being brutally buggered by a bull, s/he's just drinking a coffee and reading the only printed material they've left for her. It seems kind of ludicrous to describe such an over-the-top idea as 'realistic', particularly given her sex doll mask and large jutting cock, but the artist has managed to impart a disturbing sense of normality to the scene. She's just killing time, waiting to be summoned for her next customer.
It put me in mind of an old DX story called the 'Perfect Bride'. It doesn't look like there's a live copy online these days, but using my mad porn tracking skills, I found a version using the way back machine.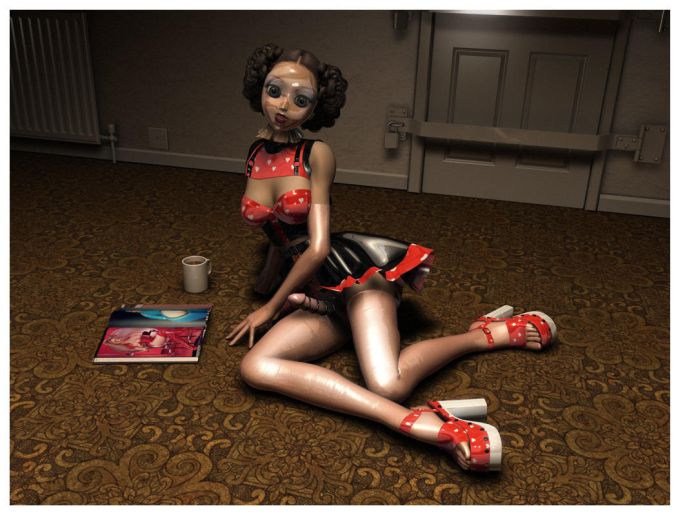 I believe the artist is called Tink. I've several examples of his work, but I've failed to track down any details about him or a homepage for his renderings. Feel free to leave a comment if you have any information on him I can add.