I had a pleasant surprise when browsing one of my favorite tumblrs recently. The site in question is the Happy BDSM one, and the pleasant surprise was that the owner had reposted the text from one of my posts. Image reposts aren't uncommon, but to see my text posted was unusual. I say it was a pleasant surprise, but my initial response was actually to be puzzled. For just a moment or two I wasn't sure what I was reading. I knew I'd seen it somewhere before, but couldn't quite put my finger on where…
The purpose of mentioning all this isn't to brag (well, maybe a little), but to make an observation on the brilliance of the tumblr design philosophy. I spotted three different bits of my writing reblogged to the tumblr (also here and here). My original posts generated a grand total of 3 comments from my readers (for which I'm grateful). The three reposts to tumblr generated a total of 208 notes (either likes or reblogs). That's a 70x increase in feedback over the originals, and I think that's mainly down to how tumblr lowers the barriers to sharing and participation. Writing a comment on someone else's blog can sometimes feel like an intrusion into their space, where reblogging on tumblr feels more like a compliment delivered in you own space.
Following the theme of happy BDSM, here's a lady enjoying herself. His expression isn't all that clear, but I like to think he's smiling under there.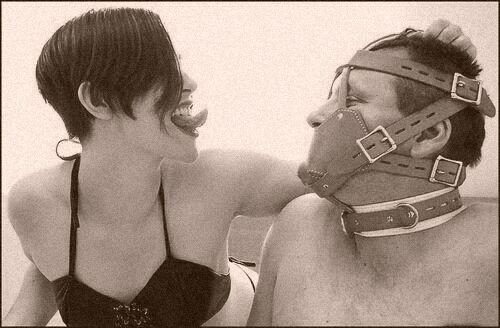 I'm afraid I have no original source for this image. Anyone pondering the post title should take a look at this.