Elise Graves was shooting for House of Gord in Seattle this week, and I was lucky enough to have the chance to session with her before she returned to the Bay area. Rope bondage, electricity, clamps and tickling were all the agenda, and much fun was had by all.
One of the great things about playing with different dommes is getting to observe many different styles of play. For the majority of dommes I play with, bondage is a complement to the main activity rather than a focus in itself. They want to make sure I'm not going to wriggle away, but once that's achieved the emphasis shifts to hitting, poking and prodding. Elise tends to switch that up, where the bondage is the main focus, and the additional activities used to emphasize and highlight the restraint. Often in sessions I can almost forget I'm  bound, but there's zero danger of that happening when Elise in charge. I'm always very aware of my own body and its interaction with the space around it.
Personally I find these kind of sessions very challenging but also very rewarding. It's easy to lie back in a comfortable position and simply soak up intense sensations. In contrast, when bondage is used to stress and control the body, it forces me to think a lot more and to be very aware of how my body is reacting to it. I recently wrote about in session communication (post one and two), and I think bondage focused sessions really lean on that skill set for the submissive, even for the relatively easy positions I was put into. Awareness of your physical limits and tolerances becomes particularly important.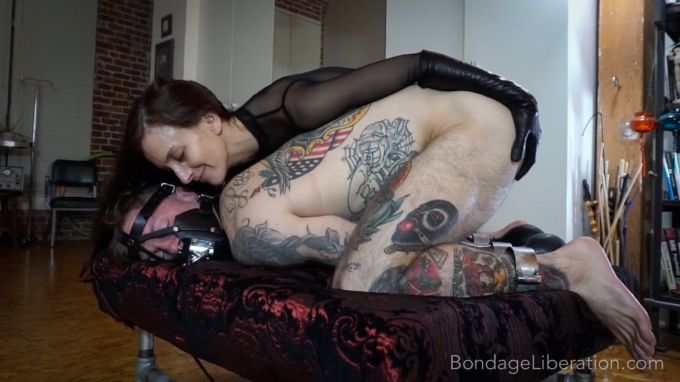 This is from Elise's twitter feed and taken from a shoot for her excellent Bondage Liberation site. Elise is typically very gleeful and happy when topping and I think this image really captures that. The male model is @for_heavy. If you'd like to play with Elise in person, then her professional site is here.