Gloria Brame has put together a new directory site for listing BDSM educators and groups – BED (Brame's Educators Directory). It provides not only contact details but also things like professional qualifications, past presentations, community memberships, etc. This strikes me as a fine idea, not only for people within the community, but also for people outside it looking for useful contact points.
The site also has some fascinating historical illustrations and photographs. I particularly liked the advertisement below from the section of circa 70's and 80's pro-dommes. The text on the left captures – in just a few lines – how much the world has changed. These days submissives starts complaining if a domme doesn't answer their email in a day or two. In this case Domina Verushka required you to send her a letter, together with stamped and self addressed envelope for any reply. A tape of her voice is available for $12 – which is around $28 in today's money. Allow 8 weeks for delivery. Makes spending a few bucks for the instant delivery of a video from a modern clip site seem like something of bargain.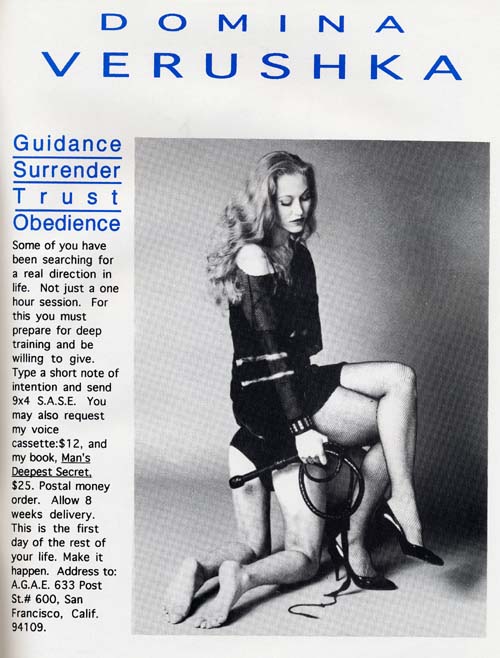 Based on this website I believe that Mistress Verushka is actually still offering professional domination sessions. Which I think is awesome. These days she's in NYC (Queens) and contactable via email. No eight week wait required.