Apologies if you tried and failed to access the site in the last day or so. All the tiny electronic wizards that carry my wise words down to your phones and computers went on strike. I did file a ticket with my hosting company, but I guess that one of their customers sites being totally offline doesn't rate as an important issue. Presumably I'd need my server to actually explode and burn down their data center to get a timely response on a weekend. I finally managed to get the tiny wizards back into line by rebooting everything, so we'll see how long that lasts.
Talking of frustrating and annoying situations – it's tax season in the US. Even a masochist like myself struggles to eroticize that kind of pain. However, I was happy to see this article in the NY Times about Mistress Lori the Tax Domme. She specializes in tax preparation for anyone in the adult industry. While the US government might do everything it can to make life difficult for sex workers, that's still not going to stop them demanding a share of their earnings. They really should change the motto on the dollar bill from 'In God We Trust' to 'Fuck you. That's why.'
Oddly enough, while I don't use Mistress Lori for my tax returns, I do use an accountant recommended to me by a pro-domme. I figured if they could handle her complicated returns, they should have no problem with mine. So far that logic seems to have worked out pretty well. I just wish I could figure out a way to write off my session tributes. Medical expenses maybe? They do feature a lot of needles, sutures, electroshock and prostate exams.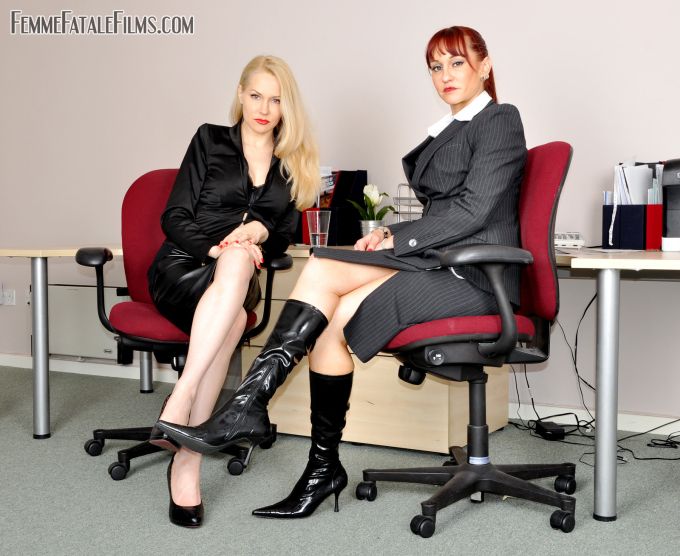 I've never actually met my accountants, as everything is handled over email, but this is definitely how I picture them when I send in my paperwork. Given my horrible financial organization, this look of scorn, pity and disappointment would not be unwarranted.
This is from Femme Fatale Films, featuring Mistress Eleise and Mistress Miranda. It's from a scene called 'Not Good Enough.'