I believe it's customary to reflect back on lessons learned when reaching a significant milestone. Given this blog just reached its 5 year birthday, it seems fitting to reflect on a few learning points I've taken away in that time.
If you use your phone to take session photographs, don't give it to friends when they want to browse your holiday snaps. It's possible they'll side swipe right past that charming little restaurant you found and right onto a close-up of a cock with needles in it.
Never schedule a dermatology appointment the day after a scene. Cane and clamp marks take longer than 24 hours to fade.
It's unwise to tell a domme to 'avoid X and Y, but anything else is fair game'. The set of things that are not X or Y is really big and contains much that is painful.
Ninety five percent of dommes will immediately reach for a cane when they discover you have a long flight coming up in a few hours. They'll also giggle about how painful it'll be to sit down afterwards.
It's possible to become blasé about discussing the exact type of anal play you enjoy with a unfamiliar lady you met just 10 minutes earlier. This remains true even if you're a generally shy person who can get embarrassed while watching TV on your own.
Hot wax gets everywhere. You could be pressure washed down by a team of expert nurses just minutes after hot wax play, and still be finding wax in odd crevices days later.
When a domme asks 'Have you tried activity X?' do not take that opportunity to brag about what an intense and crazy amount of X you did in a previous session. That will be seen as a challenge that you can only lose.
Hopefully that'll aid you all on your kinky journeys. In the meantime, like this young lady, I'm off to raise a glass to mine.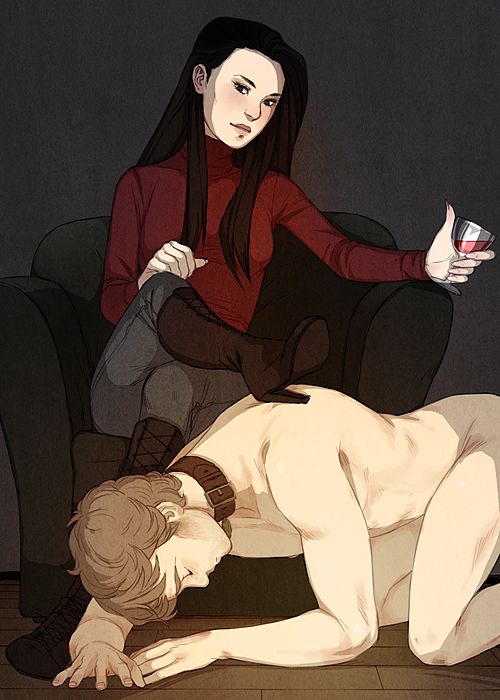 I believe this is by the NZ artist Archia!, and is fan art from the TV show Hannibal.