This is a continuation of the F/f theme from my previous post. However, where the previous image was all about the D/s connection, and the eyes of the submissive, this image is all about the objectification of the submissive. There's no face, just a blank mask. She's even been disconnected from her own body by the heavy wooden collar, which objectifies the area of torture even further.
I'm not sure if this is a candid behind the scenes shot, where the domme has gone to get water for both of them during a break. Or if this is an in-scene shot, showing the domme going to grab a refreshing drink of water while she enjoys watching the submissive squirm and suffer. Or perhaps the best option of all, it is a timout for the domme and camera crew, but nobody has bothered to tell the submissive that. She's forced to maintain her posture and twitch with the current while listening to her mistress take five and chat with the crew.
Note: On an entirely unrelated topic, I'm on vacation for a few days in San Francisco. I'll try and post regularly, but apologies in advance if updates are a little more erratic than usual.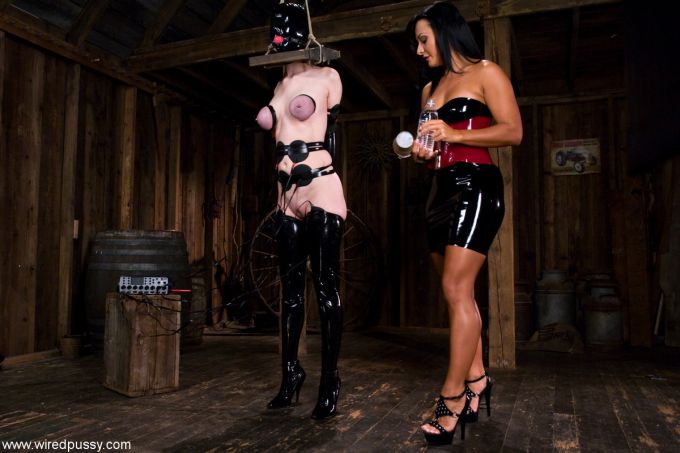 This image has floated around several tumblr sites, but it's obviously originally from the very accurately named wired pussy.