This is my last post (for a while at least) on the topic of the alpha submissive (previous posts are available here, here and here). I'm afraid I'm finishing with a bit of a rant.
You can guarantee that whenever this topic comes up somebody will start talking about powerful people having stressful jobs. They'll talk about difficult decisions, the responsibility of power and how BDSM and submission is a way to temporarily escape from that. For example, here's an Alternet article and a Psychology Today article making exactly that argument. This is, in my not particularly humble opinion, complete bullshit. Not the part about submission as escape, just all the rest of it.
You know what's stressful? Juggling two minimum wage jobs to try and cover your rent. What's a difficult decision? Trying to decide if you should wipe out your savings on a hospital visit. Responsibility is bringing up your children in a not so great neighborhood while your deadbeat ex stiffs you on child support payments. Forget the guy investing $100M for Goldman Sachs. Give him $100 in his personal checking account and see how he feels about that.
I'm lucky enough to have a well paid job now, but I grew up in a family with very little money. I remember the stress that any unexpected expense could generate. There was always an underlying anxiety that something would go wrong and we wouldn't be able to deal with it. Money might not buy happiness, but it sure as hell takes the edge off unhappiness. It turns problems into inconveniences. And nobody needs a good beating to take their mind off an inconvenience.
I think society prefers to think about executive and finance jobs as being particularly stressful and responsible in order to justify their incredible salaries. In some cases they may well be worth those salaries. Steve Jobs probably was. Jeffrey Skilling probably wasn't. But whatever their worth, when the biggest downside to a decision is that you might have to settle for a new Ferrari rather than that yacht you had your eye on, that's not a stressful decision. If anyone needs BDSM to take a 'breather from the growing burden on selfhood' (to quote the Psychology Today article), it's the guy trying to cheaply fix the transmission on the 13 year old Ford that he needs to get to work tomorrow.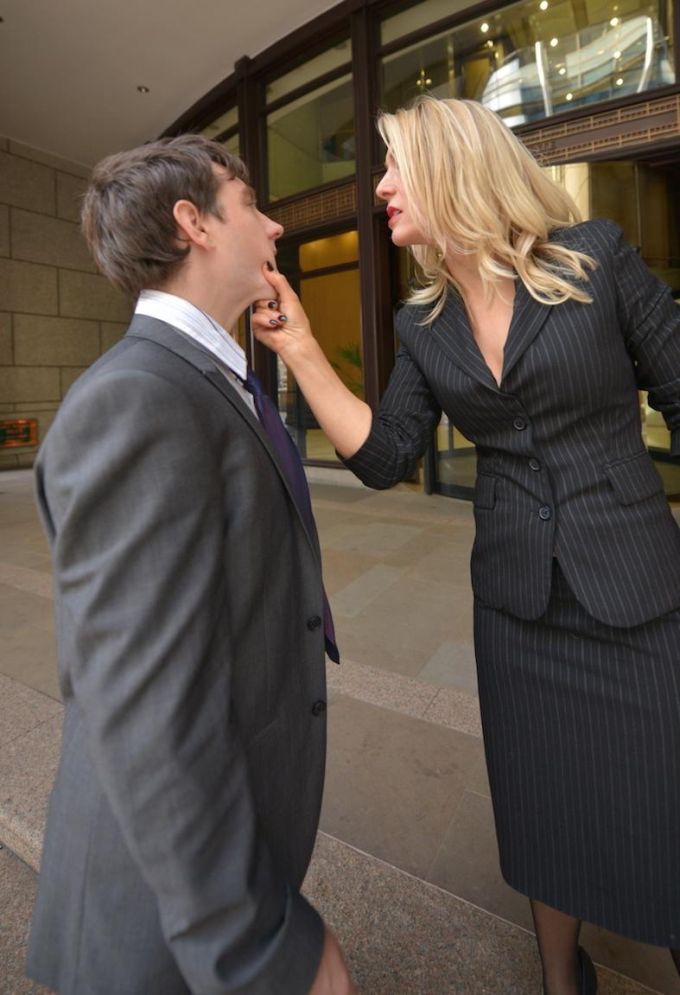 This is Miss Davenshaw, a London based pro-domme. She specializes in roleplaying corporate scenarios. So if you fancy being taken in hand by a strict female executive, I suggest dropping her a line.