I did a session last week where, once I'd been initially shackled to a St. Andrews cross, the domme started pulling out various implements from her bag of tricks. She described each of them as she did so, and laid them out on the bench in front of her. It made for a interesting opening few minutes, setting the scene for what was to come.
I was reminded of that when I saw this image. Judging by his pained expression and hand position, this is obviously not right at the start of the activity. But I like to think it's capturing a moment mid-way through. She's giving him a moment to collect himself, offer him a little bit of manual encouragement, and to show him what implements she still needs to use on him. It's the arm around his shoulder and her focused but caring expression that really makes this image work for me.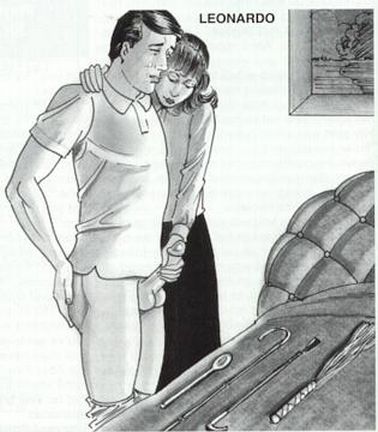 I was sent this by a reader who thought I might appreciate it. He'd enjoyed one of my earlier posts, and wanted to share some art that he felt had a similar sense of emotion and intimacy. So my thanks to him for pointing me at this particular piece.