I had an amazing few hours with Lady Lydia earlier this evening. I spent most of it floating around in subspace, just a big puddle of relaxed submission. She used a variety of tools to get me there, including a leather straightjacket, needles, a ball clamp, a crop and a pair of chopsticks. However, the most devilish tool of all was a simple piece of plastic wrap. Draped over my face it slowly got warmer and stickier, dragged closer with each intake of breath. Careful regulation of breathing helped prevent it closing off the air supply entirely, but it's tough to breath slowly when somebody is trying to pull your nipple off with a pair of chopsticks. Or slapping a crop across a few carefully positioned needles. The natural tendency is to moan and suck in a big lungful of air. At which point the plastic does its best impression of an alien facehugger, and suddenly oxygen has become a scarce commodity.
We were far too involved in the unfolding scene to snap photographs. Which may come as a relief to those of you out there with a low tolerance for skinny naked British guys in your daily blog material. However, as an alternative I found this infinitely more visually appealing shot of Lydia from her visit to OWK. In this case the plastic wrap is being used for bondage rather than breathplay purposes, but the limited availability of oxygen is a common theme.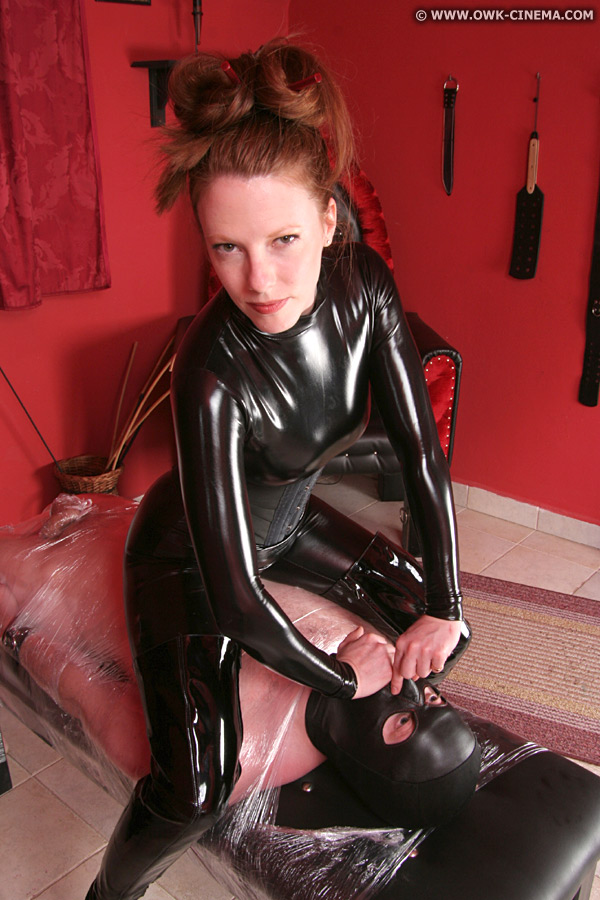 I found the image in this free gallery on the OWK cinema site. You can also buy the DVD of the entire session from Lydia herself.