Vernice61 Art
This rather wonderful pencil drawing is from an artist known as Vernice61 who, based on the speech bubbles, I assume is Italian. Using the Google translate tool, I can just about figure out what is being said. The woman on the right of the victim is saying something about standing still, while the woman on the left is saying "Now you can see how we treat inept servants." The woman on the sofa is instructing the maid to join her daughters and apply the electrical device to the balls, while the seated man is pleading "Please ladies, I beg not the electrical tool."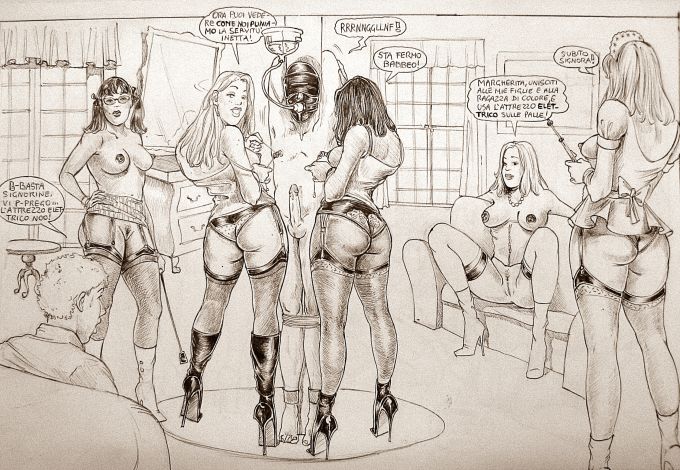 There are a number of his drawings available on this thread on the snail meilk site. That thread also includes the full size version of this image, which is 3MB+ in it's original form. Unfortunately I can't find any more permanent sites hosting his work at present. It looks like he had a deviant art site at one time, but that's now dead. If anyone can point me at a homepage, or any kind of more permanent location for his work than an image board, I'd be very grateful.
| | | |
| --- | --- | --- |
| | Print article | This entry was posted by paltego on May 23, 2011 at 8:51 am, and is filed under Uncategorized. Follow any responses to this post through RSS 2.0. You can skip to the end and leave a response. Pinging is currently not allowed. |

about 3 days ago - No comments
No lengthy post today. Just some sexy and beautiful artwork. The artist is Faun-Songs who manages this tumblr. The original posting for this is here, and the comments lead me to believe the male character is Bucky Barnes from the Winter Soldier. I featured some of her artwork before in this prior post.