There are a lot of things going on for the slave in the image below. He's been strapped down and his hands immobilized in bondage mittens. There's some sort of nipple clamp torture in place. He's got a gas mask on, which is no doubt imposing some degree of sensory isolation. And of course there's the erostek unit attached to the electrified cock bondage board. All in all, it looks like a pretty intense combination of sensations.
Despite all that, the aspect of the scene that caught my eye was Mistress Sidonia's placement of her hand on his arm. It's possible that this was a meaningless and purely transitory gesture that the photographer happened to catch. But I like to think it was a little more than that, and in fact shows a moment of connection between the two of them. I'm typically not someone who enjoys a cold icy dominant. The "Get on your knees and lick my heels you worthless dog" style of play can be fun occasionally. As a general rule however, I prefer someone who actually empathizes with the suffering, whilst still continuing to inflict or even increase it. The "Yes, I know it hurts, and I'm sorry but it's only going to get worse from here" style of domination. A gentle comforting touch for just a few seconds as I ride the next wave of pain can really help push me deep into sub-space.
On an different note – has anyone played with the type of electrified cock bondage board show in the image below? I'm tempted to get one, but they're not all that cheap, so I'd love to hear any feedback on them (either via comment or email).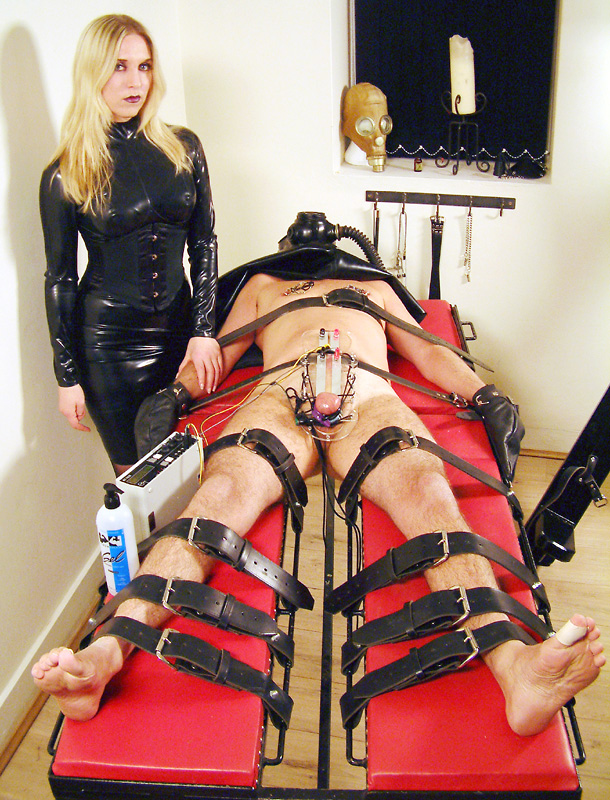 There's no attribution on the image, but I'm fairly certain it comes from the English Mansion site.