My weekend adventures in San Francisco have left me feeling a little tense. Nothing too excessive. Just the kind of mild tension where you bite a chunk out of your laptop and then start mindlessly humping the leg of the desk it's sitting on.
I wrote a couple of days ago about my initial SF session with Mistress Iris. That left me, to phrase it delicately, somewhat on edge. My second session for the trip was with Domina Yuki. We've played together a lot in the past, and those sessions tended to skew towards traditional masochist play. This one did feature some CBT, electricity and a beautiful leather straitjacket, but was much heavier on tease and denial, with a particular emphasis on the denial. It's one thing to be close to someone as desirable as Domina Yuki. It's quite another to have her tease you about how frustrating that must be and yet deny any relief.
I don't really cry in sessions. My standard response to pain is to yell or scream. Yet this session actually had me sobbing in frustration. Yuki even commented that I was pulling expressions she'd never seen from me before. I left the play space on a high of denial, with my whole body vibrating like a tuning fork.
Of course, the universe then chose to mess with me just a little more. Crossing Union square much later that night, a rather attractive young lady propositioned me with the idea that we might enjoy a mutually satisfying business arrangement back in my hotel room. That's not normally my kind of scene, but just for a second or two some frustrated lizard brain cells were leaping up and down shouting "Do it! Do It!" Back at the hotel, having wrestled my id into submission and regretfully declined the ladies offer, the couple in the room next door then decided it was the perfect night for a marathon sex and spanking session. I was stuck there, horny beyond all measure, on a strict Scout's honor of no touching, and all I can hear is endless slaps, grunts and cries of ecstasy.  I probably should have put headphones on to drown them out but, like a rubbernecker at a road accident, I couldn't drag myself away. I might not have had any orgasms recently, but the couple in room 541 certainly made up the averages for me.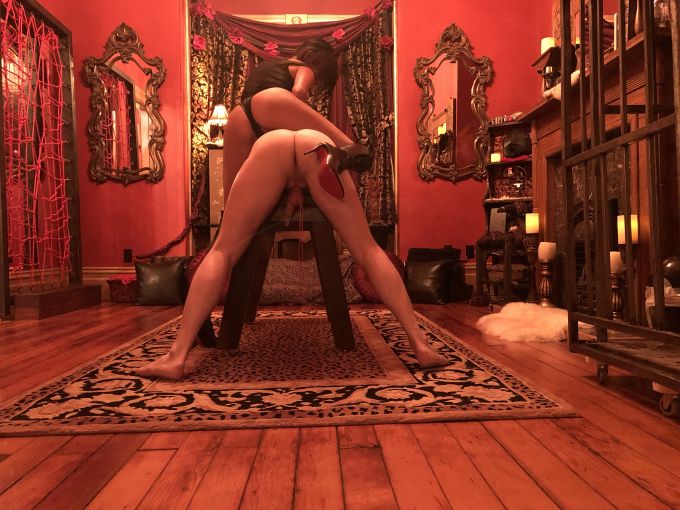 This was a shot from our scene, with me leaning over a spanking bench and Domina Yuki on top. There's a similar shot from the same angle that better shows off Yuki's beautiful boots here. There was also a very hot short movie, but sadly I don't have the bandwidth to host it here. If  you can't manage an in person session, but would like to see more of Domina Yuki and her scenes, then I'd suggest checking out her OnlyFans site. She posts a lot of great content to it.