I'm not sure if I should be entertained or depressed by this article on 'Sexual Bucket Lists'. On the one hand, it makes me feel like a crazed hedonist pushing the boundaries of sexual depravity. Which, given that I'm perceived by my friends as a quiet introvert who doesn't date much, makes me smile. On the other hand, unless they were surveying a bunch of nuns, I feel bad for the people the lists were based on.
Using a sex toy and and using flavored lubricant both feature as bucket list items for women. How can a fantasy that is literally an Amazon one-click away, be a bucket list worthy item? Expedite the shipping and you can nail 20% of your fantasy list before the weekend. And after you've used your phone to place that order, call your partner up and tick off the phone sex fantasy at the same time. Do it in the bath and you've nailed 40% of the list without leaving your house.
In fairness, at least the women's list contains bondage and blindfolds, which is a little more risque. The #1 item on the men's list is car sex. How is that still a thing? I can just picture the scene – "Hey honey, you know what'd be great? Let's leave this comfy bed and go get it on in the back of the minivan! It'll be cold, uncomfortable and full of rubbish from the kids – just the way we like it." Plus, who doesn't own or have some sort of access to a car? I get how arranging a threesome can present a logistical challenge, but how hard is it to call Hertz?
I should at least give credit to the men who listed anal sex as their #3 thing to do before they die. There's still a lot of mainstream stigma around the idea of male anal pleasure, so it's cheering to know there are plenty of men out there who are up for a good hard pegging.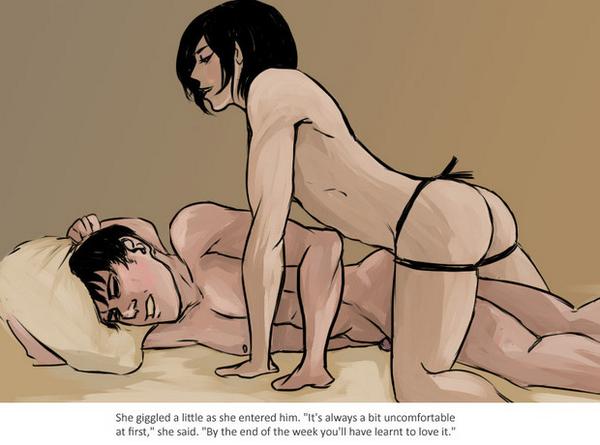 I'm afraid I've no idea who the artist for this is. As always, if you can help me attribute, feel free to leave a comment.