This article – The female price of male pleasure – isn't femdom and isn't even recent (Jan '18). However, I found it thought provoking and it's my blog, so here it is.
The basic thrust of the article is that men and women operate on very different scales when it comes to sex and pleasure. For men the range is boring to awesome, for women the range is painful/scary/coercive to awesome. That leads to very different baselines and different normal expectations. On top of that, society has conditioned us to make the male expectation the default one, to the point where people don't even realize other expectations exist, which in turn distorts any discussion about it.
Although it's  not about kink and femdom, I think the articles basic point is actually equally applicable to them. If you look around at the online representation of femdom, it would be hard to argue that male pleasure isn't the primary focus of 95% of it. The dicks might be getting squashed, smacked, beaten, locked up, teased or laughed at, but the dick is still the primary focus. It's ironic that in a realm where the purported focus is female pleasure and male pain, it's typically still the women clambering around in the uncomfortable outfits while the men get to sit back and soak in the sensations they crave.
I don't really have any wise words on how to address this. Hell, this blog is just as guilty of perpetuating the status quo. But if a discussion is going to be productive, all parties have to at least be operating with a shared understanding and a common context. So perhaps just acknowledging the different contexts and baselines that are operating here is a useful first step.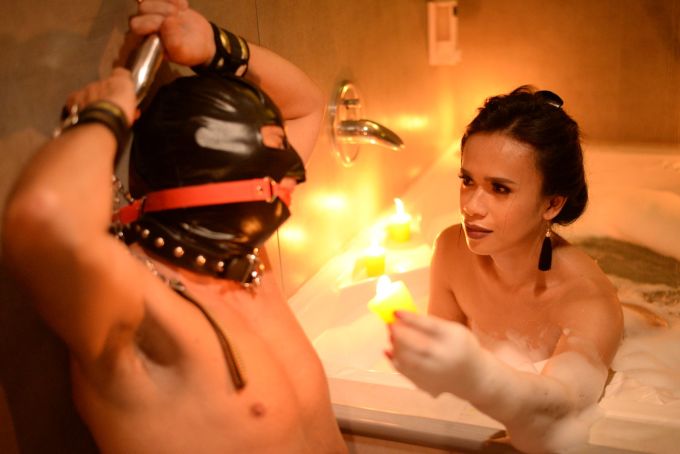 It was tricky to pick and image for this particular topic. I figured a dominant woman enjoying both a candle lit bubble bath and a bound silenced slave to drip hot wax onto was a pretty good representation of what should be pleasure for all concerned. This is Goddess Viper,  a pro-domme based in Manila, with the image taken from her twitter feed. My thanks to Lucy Sweetkill for the original article link.