This is a follow-up post to my one from yesterday. That tackled the perennial discussion of what sexual activities are acceptable for a domme and why the obvious answer of 'all of them' never somehow seems to stick. In that previous post I argued that a large number of pro-dommes are invested in defining domination in a legal safe way, which naturally puts certain activities outside the definition.  While I obviously think that's true, it's also only part of the picture. The other part is the out-sized influence that professional domination has on femdom in general.
In any sane world, femdom would be a generally recognized preference, and professional femdom a narrow subset of it that operates within certain legal boundaries. Actually, in any sane world, those legal boundaries wouldn't exist and sex work would be decriminalized, but lets set that aside for the moment. The general point is that people's sexual behavior shouldn't be defined by the professional label. Nobody would take the escort definition of the girlfriend experience (GFE) to be how a man should actually interact with a girlfriend. Yet the pro-domme dynamic is often the lens used to view femdom in general. So any distortion created by the laws around sex work tend to distort how people see the bigger picture and the definition of female domination.
This blog is part of that problem. Over the years I've tried to link to and feature the blogs of many lifestyle female dominants. I'm sure I could have done a better job, but I try to share the broadest view of femdom that I can. However, for most femdom bloggers, sharing information is optional and secondary to their kinks. For most pro-dommes, sharing information is a key part of their marketing and essential to how they make money. That creates a public information imbalance. Most femdom blogger avoid sharing photographs for reasons of privacy. Pro-dommes hire professional photographers and take endless snaps of themselves between sessions. My social media feeds are full of them, and I love featuring them here. It makes it easy to create a visually interesting posts. But it's a distorted view of femdom.
I've no idea how to resolve this problem. Pro-dommes have been a hugely important and positive part of my life. I'm happy when I encourage people to visit them. I also think that if I tried to create a blog that featured no professional content at all my readership would plunge. The images they share are undoubtedly striking. At the same time, I don't think I present a balanced view of femdom. Or a view that leads people towards what I'd like femdom to be. Instead I reflect an information imbalance that's detrimental to that vision, and I'm not sure what to do about that.
I'll leave you with a shot that exemplifies my problem. This is of Mistress Iris as captured by Miss May. It's a lovely image and Mistress Iris is a fabulous domme, but it's also as relevant to femdom in general as the Noma cookbook is to the average home cook.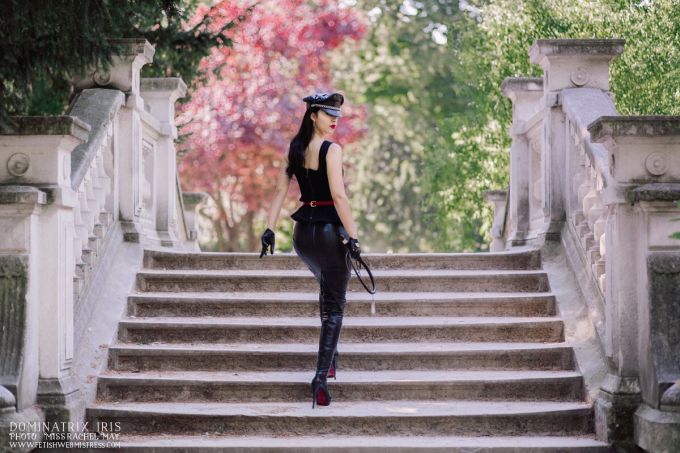 You can find Miss May's professional site here. She offers bespoke web and graphic design services for the global Fetish, BDSM and erotic industry.
Mistress Iris is an LA based pro-domme, who travels extensively. You can find her professional site here.