I survived my kinky odyssey to LA and I'm safely back in Seattle, albeit bruised and sore. I ended up doing four different sessions over five days with three different dommes. It was a lot of fun but also a lot for me to handle in a short period of time. Although, as problems go, 'too much hot kinky fun' is not a bad one to be stuck with.
My final session was with Cynthia Stone and was also the most intense. She's a very creative and imaginative domme, and often  comes up with something new for me to experience. In this case, after some spanking and bondage, it was torturing the web of skin between my thumb and index finger. It's not a part of the body that typically features in kinky play, but it turns out to be surprisingly sensitive. She used a scalpel to nick the skin on each hand – like two nasty paper cuts – and then clamped them closed with magnetic balls  on each side of the hand (like this). Normally clamps hurt when they go on, then fade over time, only to hurt again when they're pulled off and the blood rushes back. In this case the pain just kept growing the longer they were on, almost like a cramping sensation, and then spiked horribly when they were pulled off. I'm not sure if that reaction was down to the cuts or simply the way the nerves in the hand responded over time.
Unfortunately that wasn't the end of the story for that particularly body part. She also decided to suture my hand to my cock, punching the suture thread through that same piece of skin below the thumb. Surprisingly, the suture into the hand hurt way more than the multiple ones she used to attach the thread to the cock. A gag was even necessary for the hand one. To complete the arrangement, Cynthia held the free end of the thread taut while I slowly and very carefully slid my hand down it towards my cock. The sensation of the thread slowly slipping through the suture hole in my hand was strange and disquieting. Not something I'll forget in a hurry.
One of the most amazing things to me about these intense sessions is how quickly everything returns to normal afterwards. Cynthia is great at getting into her play partners heads and ratcheting up the tension and drama. By the end I always think I'm going to be a shivering wreck, falling off the bondage table covered in blood and bruises. Yet, when the lights come up and the ropes come off, my reaction to seeing the damage is usually "Really? That's it? I was expecting it to look way worse." All that's needed is a spritz of disinfectant and a quick shower and I'm ready to rejoin the civilized world.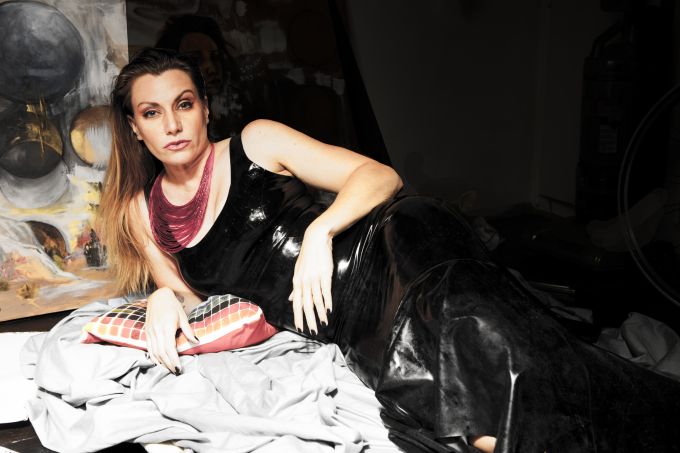 This photograph is from Cynthia's gallery page. If you're interested in experiencing her creativity for yourself, then her session information is here.