I was amused when I first spotted this image. I couldn't tell if I should file it under CFNM or WTF. I was less amused when I discovered it was shot by the Reality Kings site. Their parent company is D&E Media, which owns a bunch of porn sites. Unfortunately their reputation in the industry is less than stellar. They have a bad reputation with performers, and have been accused of using under age actresses. The one decisions Belle Knox (the Duke student who made the news for starring in porn) said that she'd take back was shooting for one of their sites. While there's nothing definitively proven one way or another, I'd certainly feel uncomfortable sending any of my dollars in their direction.
It reminded me me of this old post from Eros Blog on researching the background of the porn you buy. Femdom material is particularly easy in that respect, as there are so many independent women producing it. Just off my blogroll I can point to the wonderful Mistress T, the English Mansion of Mistress Sidonia, Lady Annisa's Medial Fetish clips and the Femme Fatale Films of Mistress Eleise de Lacy. All these producers write about their work and lives, as well as offer great femdom material. There's also a huge number of independent pro-dommes offering clips for sale. For example – Irene Boss, Cybill Troy, Goddess Cheyenne and Elena De Luca. It's easy to find testimonials from submissives who have played with and shot for these dommes.
I'm not suggesting that before reblogging a tumblr image you need the life story of all the models, technical crew and the guy who made them coffee. But if you're going to buy porn (and it doesn't get magically created for free), then why not send the money to the people you know are creating it ethically and conscientiously? They're not hard to find in the femdom genre.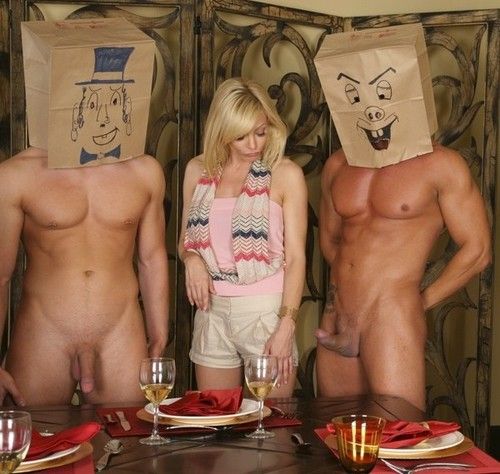 I originally found this image on the Beautiful CFNM tumblr.