Most of my posts tend to the positive and upbeat. This one might be a bit more of a rant. Let's put a nicer spin on it, and call it constructive feedback. It's aimed squarely at dominants and centers on something that has happened to me too many times to be a coincidence.
Here's my rant feedback: When you're playing with someone fairly new, and that person has outlined a few limits (hard or soft) to stay away from, then stay the hell away from those limits. Don't try and figure out exactly where the line is drawn. Don't try and determine exactly what about the activity makes it a limit. Don't toy with anything vaguely related. Just avoid, avoid, avoid.
I'm not a submissive with a lot of limits. When I look at a typical list of play activities, it's quicker for me to list what I will not do rather than what I will. I've a soft limit with hoods and claustrophobia, I've a hard limit on humiliation, and I've a slightly screwed up lower back that makes extreme bondage positions tricky. That's about it. Not a lot to remember. Yet multiple times in the last couple of years I've played with new dommes who, having been given this list, proceeded to flirt with activities that ran awfully close to these problem areas.
The last time it happened was a couple of months ago. It was my first time I'd played with this particular dominant. Not fifteen minutes into the session, and after my standard limits discussion, she pulled out a hood and asked if it'd be OK because it had both mouth and eye holes. Suddenly I'm thrown out of my happy subby mindset and into evaluation mode. How scary does it look? Can I handle it? Is it an integral part of the scene she wants to try? It would have been fine to show the hood pre-scene to get my opinion, but why bother suggesting it after we started to play? I ended up refusing and it made absolutely no difference to how the scene unfolded.
A similar thing happened towards the end of last year. It was again someone fairly new to me and, after mentioning my screwy back, she proceeded to try for a really awkward bondage position. She had me on my back on the floor, knees pulled up towards my shoulders and my arms pulled down towards where my feet would normally be. After pointing out that this wasn't a great position for me she gave up on the plan, but it seemed so unnecessary to attempt it at all. Maybe we could have got it to work given time, but I estimate there are around three million and seven safe positions to tie me into, so why try for the tricky number three million and eight?
None of the examples (and I have multiple others) felt like deliberate attempts to break a boundary. It just seemed the limits discussion planted ideas, and that saying "Heavy X is a limit" somehow translated into "… but let's do light X!". This seems perverse to me, and not in the good way. Assessing intensity or risk is very hard with someone you don't know. Much better to stay as far away as possible from potential minefields. Just because someone has handed you a map, doesn't mean you need to go up to the minefield boundary and start jumping up and down. There's no shortage of other interesting places to explore.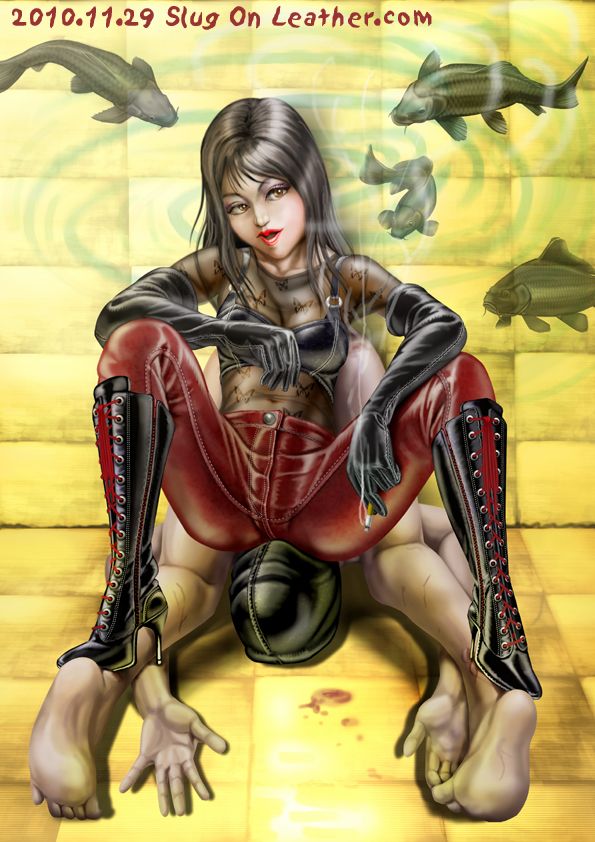 This artwork by Shohei Yamashiro manages to capture both hoods and an awkward position to bend a slave into. Now if you can just imagine she's calling him a worthless fool, it'll have nailed 3 of my personal limits.