This article has been popping up all over the web in the last few days, both on mainstream and kinky blogs. It describes research done on BDSM participants, testing their cognitive response to something called a Stroop task both before and after playing.
The results showed that people playing the pain-receiving role showed poorer Stroop task scores, which are seen with short-term reductions of functions in a part of the brain called the dorsolateral prefrontal cortexAmbler said. This region is linked to executive control, working memory and other higher-level functions.

The pain that comes with sadomasochistic sex may cause the brain to shunt blood flow away from this region, causing a subjectively altered state of consciousness — and the appeal of SM, Ambler said.
My initial response on reading this was on the lines of "Well duh!" Anyone who has experienced subspace and the discombobulation that comes along with that will attest to the altered states that kinky play can produce. I'm incredibly spacey and buzzy after my sessions, and can barely talk during them. I'd probably have difficult spelling my name during an intense play experience, let alone doing a Stroop test. However, I do like the fact that somebody is doing real clinical studies in this area. There's lot of anecdotal commentary flying around about subspace (see this blog for one), but precious little that is grounded in quantifiable data. Even if those quantifiable measurements only involve 14 people in this particular case.
I'll finish with a shot of a very kind and helpful lady guiding a gentleman towards his own particular altered state. I like the fact they've both sticking out their tongues, but for very different reasons.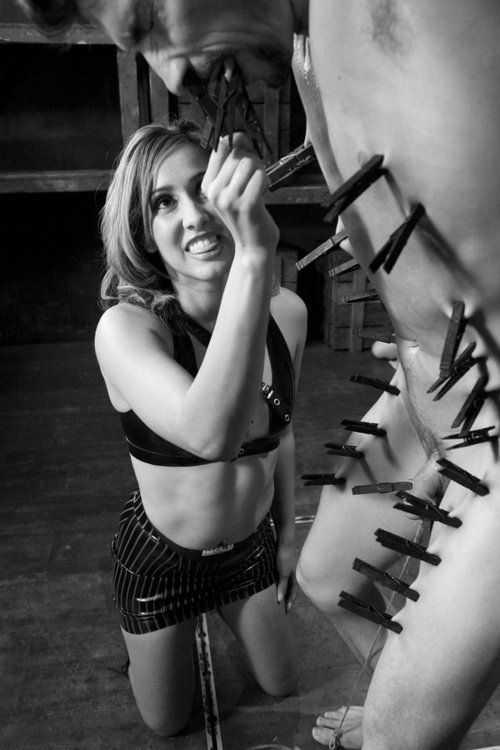 I believe this is a kink.com shot, but I've no actual proof of that. I found it on the Superioridad Femenina tumblr.