A Guardian article on Nobuyoshi Araki caught my eye recently and sent me on a trip down memory lane. If you haven't heard the name before, he's a prolific and famous Japanese photographer. He's probably best known for his images of Kinbaku, aka women in bondage (for example this, this and this). The article itself is a fairly silly one on on the nonsensical topic of art versus pornography, but the man himself has a special place in my heart.
I originally came across his work in the 1990's when I was still in college. One of the major British television networks showed a documentary about him, which was surprising given the explicit nature of his artwork. The program featured a lot of bondage and showed him working with riggers and models to create complex and beautiful shots. I found it amazing. At the time my exposure to BDSM imagery, and particularly bondage imagery, was very limited. The UK had strict rules on BDSM porn and most of it was either sloppy cheap vintage bondage or cheesy commercial rubbish. Yet here was a real artist taking the subject seriously, working with a skilled team, and showing how beautiful proper rope bondage could be. It opened my eyes to the potential of BDSM for being more than just a bit of kinky fun in the bedroom.
Unfortunately, for the purposes of this blog, I'm not aware of any femdom slanted pieces that he has done. So instead I'll feature some alternative Japanese bondage, in this case it's a vintage piece from 1954.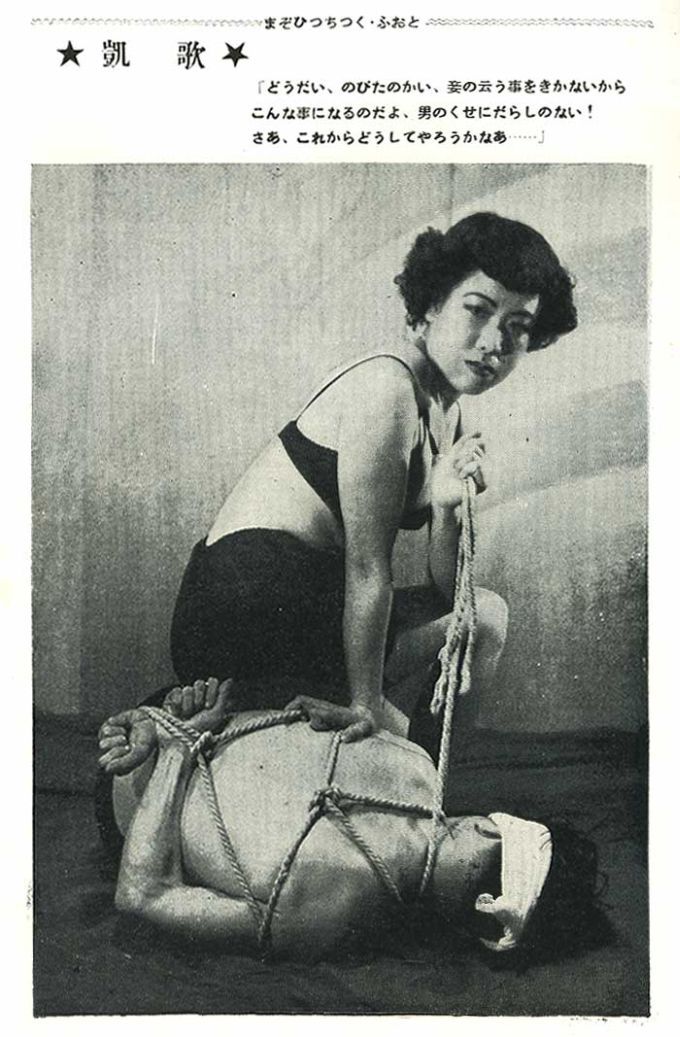 You can see more from the same publication in this gallery. I believe (based on Google Translation) it's from a magazine called Kitan Club.