I have a blogging problem. I have to come clean and admit it. I'm sure a lot of you are now nodding your heads and thinking to yourself – "We already know that. We see it every single time you hit that 'publish post' button." While that may be true, it's not the immediate problem I'm prepared to talk about here. My main issue right now is the sheer number of interesting blogs out there I'd like to link to. There are just too many of them.
As you've probably observed, my blogroll on the right is a dynamic one, which updates and sorts itself based on the publication of new posts. That works great for 20 or 30 blogs, but not very well for 50+. I don't want to get rid of the dynamic blogroll, but I don't want to stop adding interesting links for readers. Either I need the world to become less interesting, or I need a better approach for linking to lots of blogs.
My solution is a new page, entitled (imaginatively enough) Femdom Blogs. This is modeled along similar lines to my Images and Equipment pages, with some approximate link categorization for a few distinct lists. This new page will always contain 100% of all the links I publish. My dynamic blogroll on the right will be a subset of that, hosting newly discovered links and links to blogs that both regularly update and are personal favorites (i.e. I read every update).  This way I can keep updating the blogroll with new and interesting stuff while having a much larger static collection on a separate page.
Right now the page basically lists what is already in my blogroll, albeit with a few additions to the Sex section (Savage Love, Tiny Nibbles and Viviane's Sex Carnival). For step two, in my post tomorrow, I'll do some shuffling and introduce some new femdom and kink links.
In the meantime here's a pleasant image for your viewing pleasure. It has no correlation with this post. But anyone making it this far through my random site admin thoughts deserves a little eye candy.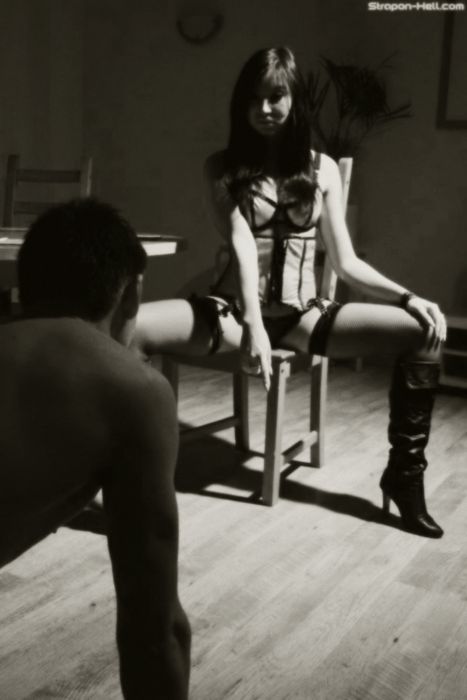 I came to this via the Undiscovered Limits (aka Untamed Dark Mane) tumblr. It's originally from the Strap-on Hell site.