Mistress Rex isn't the most prolific of writers on my blogroll, but when she does post it's always interesting, thought provoking and highly literate. Her most recent post helped crystallize a number of thoughts I'd been mulling over recently. I suggest reading the whole thing, but I'll just quote the section I particularly want to talk about.
I'd be bored out of my mind if I stayed within the parameters of what clients (or lovers) told me they think they want. It's domination. It's the thrill of control and power. It requires a degree of force and discomfort, a shifting of will. How do you know how much you can take if you're not challenged? How do you know how much you can give if you're unwilling to offer it?

Brock Lesner is an idiot, but he happened to deliver a beautiful concept (wherever he got it from) on national TV when he said that, "fights are won by inches." Technique and skill can take you a long way, but it's intensity that fills those inches – it's knowing to keep going when you have your opponent hurt. It's holding someone's head under water despite their thrashing, because you know that panic is a moment too soon.

Mistress Rex from her post titled 'Give Her an Inch and She'll Walk All Over You'
I've observed that being stressed and forced close to their thresholds of tolerance is a common desire amongst submissives. It's certainly a desire I have in any session I do. No matter what the activity, I like to feel I'm being pushed and stretched in new ways. That I'm going to go further than I have in the past. I hate to stop an activity because it's too intense for me (and I almost never do), but at the same time it's never a completely satisfying session if we don't briefly flirt with that possibility. It's a very tricky line to walk.
The need to push for this intensity, to inch forward towards that threshold, is one that has bothered me a little. Am I just doing it for stupid macho-sub reasons? To prove that I can do it? And am I going to run out of inches one day? Find out that there is nowhere left to go and I've burnt out. Most other activities in life don't require this kind of dynamic. I love fine dining and nice wine, but I don't have a constant need to push my boundaries every time I eat in a restaurant. Why is my masochism and submission different?
I think Mistress Rex has helped me answer these questions. It's about the shifting of will, the relinquishing of power. It's only in those last few inches that dominance and control is absolutely demonstrated. What happens up to that point is just sensation. It might be interesting or pleasurable (in the masochistic sense) sensation, but it doesn't cost the submissive anything until it approaches the edge. It's the extraction of that payment where both the dominant and the submissive find the real satisfaction.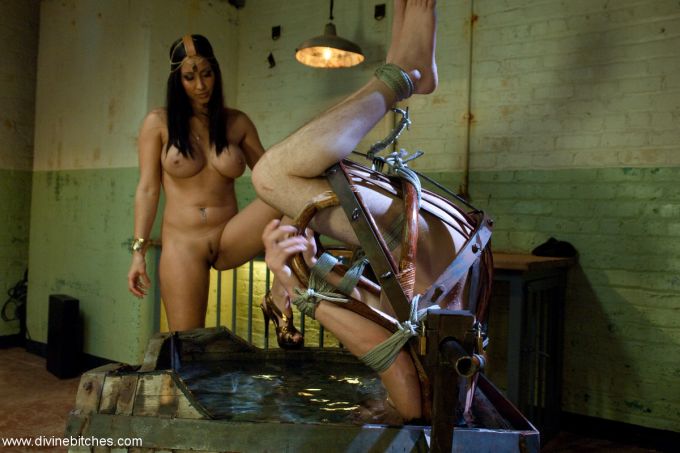 Mistress Rex's comment about holding someone's head under water made me initially think of this image, but I posted it because it represents a type of play that quickly pushes me close to some of my personal edges. I struggle with anything that closely covers my face, whether it's a leather hood or a tub of water, so using this apparatus would be to extract a very high price from me.
The dominant is Isis Love in a Divine Bitches shoot.