As I mentioned in previous posts, I was in San Francisco a couple of weeks ago. Unfortunately, the day before I flew down, a nasty bug hit me. It wasn't enough to knock me out entirely, but it did leave me feeling pretty rotten. That presented a conundrum. Normally if I'm sick I don't play. Bottoming in a scene takes a lot of energy, which I don't have if I'm unwell. I want to ensure that I'm warm, rested and hydrated, not naked, beaten and sweaty. However, in this case I had a limited window of opportunity. I'd set up sessions with Mistress Yuki and Mistress Ai-Li, and I was only in town for a handful of days. I didn't want to miss out on getting together, and I didn't want to mess them around by cancelling. They were happy to deal with the less than healthy me, but how would I cope?
In the end I came up with what I thought was a cunning plan: I'd try and make my reactions to the session work for me. Specifically, I'd try and use the endorphins generated to power through my vacation. I normally have a post session buzz than can last for hours or even days. So I figured I'd leave my body to fight the nasty virus, while I floated through the trip on a BDSM induced high. I'd still have the symptoms, but maybe I just wouldn't care.
With my cunning plan in place, the next question was: What type of session should it be? Ideally it needed to be something calm, meditative and involve a lot of lying down on my part. I wanted the endorphins, but I also had a sore throat, so anything involving heavy pain and screaming was a non-starter. Given a fuzzy stuffy head, heavy breathplay was out, as was any kind of gag. Ultimately I decided piercing was the perfect solution. Painful and ritualistic enough to get me juiced with all the right brain chemicals, but not extreme enough to stress my body or drain my energy.
Unfortunately, I'm sad to say that while the theory might have sounded good, in practice my plan was slightly less cunning that I had originally thought. On the plus side, the immediate reaction was all I had hoped for. Mistress Yuki and Mistress Ai-Li did a brilliant job and I left appropriately floaty. That lasted for several hours and allowed me to do typical vacation stuff with my friends. At that point, I then crashed, and crashed hard. It wasn't sub drop. I guess it was virus drop. Or getting-needles-through-the-genitals-while-sick drop. I basically ended up wiped out for 48 hours, and feeling worse than I had before the session. Just to double check my data, I ran the whole experiment again a few days later and got exactly the same results. Great for the few hours while the initial endorphin hit lasts, terrible after that.
In conclusion I'd suggest that if you're sick and have a critical job interview or task to accomplish, then BDSM may help. Get yourself tied and tortured in your preferred fashion immediately beforehand, and you'll float through feeling great. But if your goal is simply to get better as fast as possible, I'd avoid getting down with your kinky self. That is unless your kink involves warm drinks, restful naps and watching daytime TV on your couch.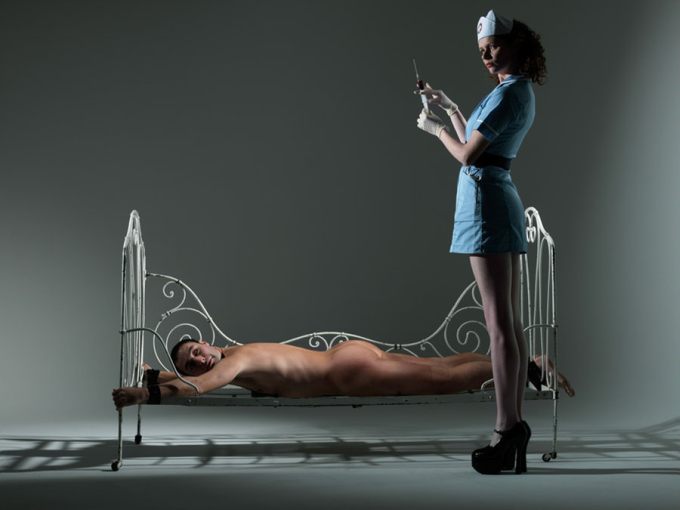 This image is by the Australian photographer Peter Coulson. I do have some personal shots taken from my San Francisco sessions that I'll put together for a later post.