The KinkD people have played one of the standard cards that kink related companies use to get free PR, releasing a list of top kinky US cities based on their user data. Given this is such a common gimmick, you think they'd put some effort into crunching the numbers to produce an interesting story, but no such luck.
The top 3 cities for the largest numbers of kinky people (or at least KinkD subscribers) are NYC, LA and Chicago. Unsurprisingly, if you look at the top US cities by population, the top 3 are … wait for it … NYC, LA and Chicago. Obviously they'll have the most the kinky people. They've got the most everything.
Really the story here shouldn't whats good, but what places suck to live in if you're kinky. Phoenix, San Antonio, Dallas and San Jose are all in the top 10 most populous US cities, but despite their numbers, don't make the KinkD top 10 list. They're the ones bucking the trend here, not places like NYC or LA.
Another way to look at is the ratio of kinky people to city population. If you assume the KinkD subscribes numbers correlate to kinky people in general, and the city definitions they're using are the same as here (two pretty big assumptions), then sorting their top 10 by that ratio gives…
Portland
Seattle
Austin
San Francisco
Philadelphia
Los Angeles
San Diego
Chicago
Houston
New York City
Now the smaller cities known for more alternative culture leap to the top three spots. Of the massive cities, LA now does the best in the mid-pack, and NYC goes from top spot to the bottom.
Silly numbers aside, the truth is that anyone living in the above 10 cities will have access to a pretty large kinky community. The real challenge is for the kinksters who finds themselves in places like Emmetsburg (Iowa), Centerville (South Dakota) or any of the thousands of small towns scattered across the country.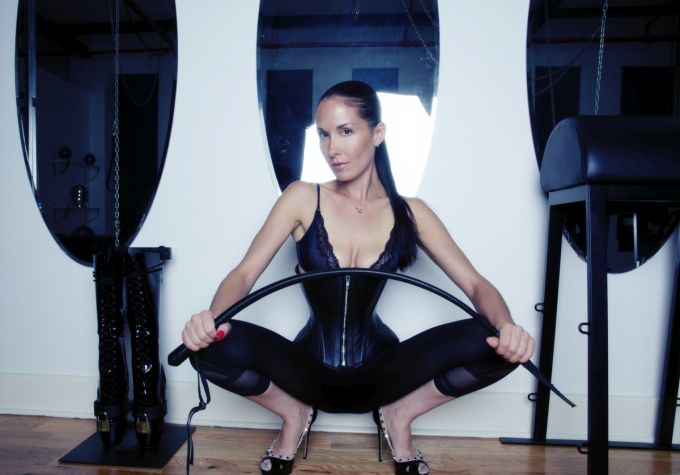 I sadly don't have any hot femdom images from kinksters in Emmetsburg or Centerville. Instead I'll go with something from one of the major metropolitan areas. This is Mistress Tess, one of NYC's top pro-dommes.