I've been doing yoga with an instructor over the last couple of months. I'd like to say it was all about getting in shape, but it's really more about maintaining flexibility and not degenerating any further. In middle age you sometimes have to work just to stand still.
There are some obvious similarities between a yoga session and a BDSM session. They both feature physical discomfort, awkward positions, pushing at limits and having a woman firmly tell me "Now we're going to do 6 more of those." However, the slightly less obvious similarity that struck me today was about symmetry. Dommes and yoga instructors are always obsessed by it. You just know when start a yoga position or stretch on one side, you're going to have to repeat it on the other. And any tortuous beating, piecing or pinching from a domme always has to be mirrored equally on both sides of the body.  I've even had dommes comment on how annoying it is if they can't get things like marks and needles lined up neatly and symmetrically.
If there are any dommes reading this, then can I suggest occasionally trying asymmetric play? It might annoy your inner neat freak, but it will blow your submissive's mind. Particularly if there's no warning beforehand. We're so trained to expect particular patterns that being random and uneven will inject a real element of surprise and uncertainty into a scene.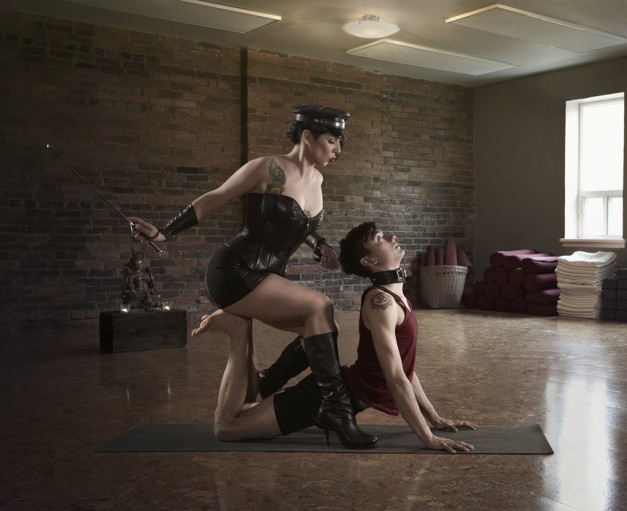 This image was shot by the photographer Henrieta Haniskova and is entitled 'Yoga Dominatrix'. Yoga fans may recognize the pose. I think it's 'Upward Facing Dog' but I'm far from an expert. There's a description and fun video on the making of the image available here (also on Vimeo). Both of the models are actually yoga instructors. It's a shame there aren't more images from the shoot available, as it looks like they tried a lot of different positions before settling on this one.