A professional dominatrix made a little bit of history in Canada yesterday. Terri-Jean Bedford (actually a retired pro-domme), along with Amy Lebovitch and Valerie Scott, won their case in front of the Canadian Supreme Court to strike down the countries anti-prostitution laws. This Tits and Sass post has a round-up of various links on the news. You can see some of the positive reaction from pro-dommes and other sex workers in twitter comments like this, this and this.
Some of you might be wondering why a pro-domme is involved in anti-prostitution laws. After all, don't pro-dommes abstain from sex with clients? The reality is that when it comes to sexual matters the law is frequently an ass. In this case Terri-Jean Bedford was legally working in her own space as a pro-domme in 1994 when the Toronto police raided and arrested her. The confiscated all her equipment, splashed her name across the papers and ultimately (in 1998) convicted her of keeping a bawdy house. Since then, with the help of a dozen anonymous backers, she's been fighting the legal system. And, as it turns out, winning.
The confluence of sex, commerce, morality and law is always going to be a complex one. I've therefore adopted a simple rule I always start with in these matters – listen to the voices of the people involved. It's fine to debate with academics* and politicians, but not all opinions are equal. And in this case the opinions of sex workers are both far more important and (as far as I can tell) unequivocally in favor of this ruling. So a big congratulations to Ms Bedford, someone who can certainly rock a leather jacket and riding crop look.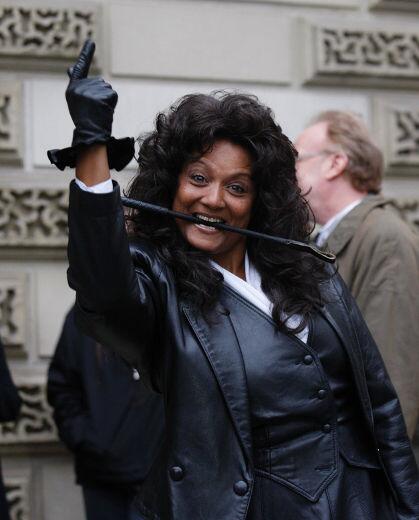 I'm actually in the process of reading her book Dominatrix on Trial. I'll put a review of it up at some point soon.
* The exception to debating academics would be people like Gail Dines and Melissa Farley. Their twisting of facts and obvious bias disqualifies them instantly from any sensible debate.