One great way to infuriate a dominant is to claim you'll do anything. It's like a red rag to a bull. The typical response is either to reach for an extreme form of play ('go fetch me my branding iron') or to propose a very un-fun type of play ('go clean my car while I watch TV in sweatpants'). The idea being to demonstrate that the submissive better be careful what options he or she open up. Mistress Matisse wrote a column some years ago that covered the topic from the dominant point of view pretty well.
I definitely understand that viewpoint when playing with someone new. In that case communication to set expectations is vital. In past posts I've termed the failure to do so Meat Loaf syndrome – 'I'll do anything for you….but not that'. However, I do think it's a viewpoint that sometimes gets pushed too far. BDSM negotiation isn't divorced from the normal conventions of discussion. Being a dominant doesn't give you a right to abandon common sense, and 'anything' is always contextual.
If a partner asks me where I want to eat tonight and I reply "Oh anywhere really, you pick,' nobody would interpret that as carte blanche to do whatever they like. Dumpster diving behind Pizza Hut is out. As is booking tickets for a 6 hour flight to the New York restaurant scene. And if they know I'm horribly allergic to crab, my answer doesn't mean I'm willing to swell up and die in the local crab shack. I don't have to specify these things because any friend or partner with half a brain will understand my 'anywhere' response as being implicitly qualified.
The same thing goes to BDSM negotiation. Assuming we're somewhat familiar with each other, then 'anything' means activities the same as or vaguely within touching distance of stuff we've tried or discussed before. And if there's something new that a dominant would like to try, then the 'anything' response is a great cue to suggest it to me as an option. As a submissive I like to give my dominant choice and flexibility in a scene whenever possible. It seems odd to punish people for trying to do that by deliberately picking the worst possible interpretations of their responses.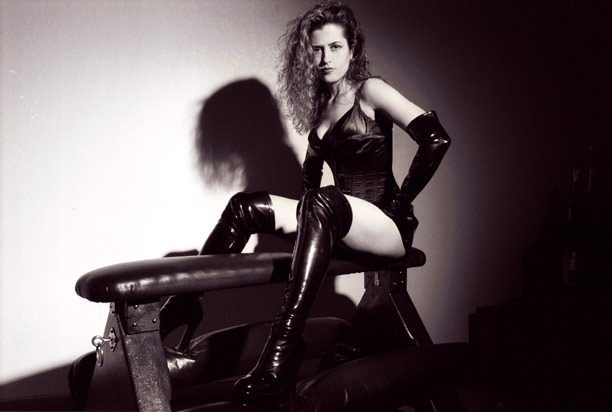 Having referenced an article from Mistress Matisse, that gives me the perfect excuse to feature an image of this rather fabulous lady. This is an old shot recently republished on her twitter feed, and captioned by her as "Behold me as a little baby dominatrix! Look how scowly and stern I was! Rar, fear me! (That didn't last very long.)" Her professional site is viewable here.