This is an image where the degree of perversity is assigned by the mind of the viewer. Obviously it starts at a base level of perversity that's pretty unavoidable. I don't think he came in for the remote control and tripped and fell awkwardly. But maybe she's just forcing him to watch and nothing more. Or maybe there will be a few drops to clean-up from her after the fact. Or maybe…well…you get the idea. Beauty is not the only thing in the eye of the beholder.
I'm not going to say what my preferred interpretation is. I'll just mention that I like the look of, lets say, 'concentration' on her face.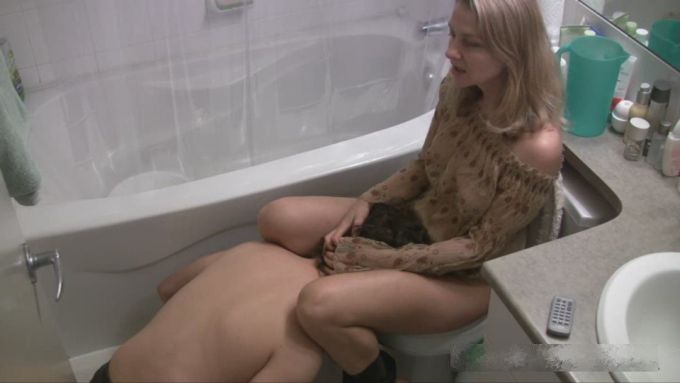 Annoyingly it looks like this image had a watermark and somebody scrubbed it out. I hate it when people do that. Feel free to comment if you can help me attribute it. I found it on erotic haecceities.
Updated: Thanks to pedamore I believe this is Mistress Yuliya Kate from Vancouver. I can't see this exact scene in her clip store, but there's one showing a similar bathroom and a couple of her in that top, so it seems to be a pretty positive id.