This session was recorded by Mistress Cynthia Stone in LA, just a couple of days after our previous session. On both occasions I left it to Mistress Stone to steer our activities in whatever direction she preferred. On this particular day she called me in the morning to see if we could start just a few minutes later than planned. Apparently she had to 'pick up a few things' on the way. That gave me a hint that something unusual might be in store.
We started with a piercing that was a first for me – in the foot. Specifically across the top of the web of skin between the big and long toe. Unfortunately the photograph below is probably the worst of all the ones we snapped, but you can just make out the yellow end of the needle, right beside a blob of wax she dripped onto the piercing. Any sensation in a novel location is normally an intense one and this was no exception. It was particularly interesting to move around with it in. As I very gingerly walked forward I could feel the flesh moving around the piercing, each step making me very aware of the sliver of steel in this delicate spot.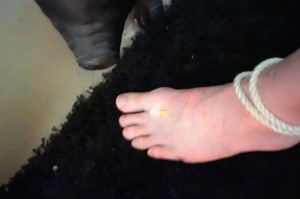 Up next was a double play – piercing+whipping. That's an unusual combination in my experience. The top two images show me in position, skin already red from a variety of implements applied at speed. As a preview of what was to come later, you can also see a lot of plastic wrap across the leather table. This Dexter like decoration was definitely catching my attention by this point!
The left shot below some target needles in place, destined for the attention of Mistress Stone's single-tail. She's very accurate with that implement, but not all the needles wanted to co-operate. Apparently being stuck in my ass was the place to be and they had no plans to leave. The fourth image shows the results after Mistress Stone had persuaded them otherwise. It looks intense, and it certainly wasn't a minor physical sensation, but the major element was psychological. Piercing is normally very precise play. There's an element of ritual about putting the needles in and taking them out. Combining something as brutal as a single-tail with it was a real headtrip. With it all happening behind me, it was easy to picture piercings being ripped out and the skin opened up. The reality was nowhere near as traumatic, but at the time it didn't always feel that way.
With all the needles out, and with the blood still wet, we moved onto that plastic wrapped leather table. It turned out that the supplies Mistress Stone had picked up on the way to the session were for a body casting. This was to be another new experience for me.
The first two images below show me with a layer of alginate across the torso. That's the same stuff dentists use to take impression of teeth. It's also used in special effects studios when creating fake body parts via lifecasting.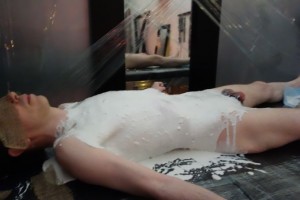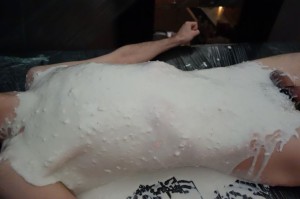 After the alginate came layers of plaster bandages and some burlap to strengthen the edges. My headspace during all this was an unusual one. There was no real bondage involved and, at this stage, no pain. The plaster was warm as it began to set and in some ways it was quite relaxing, almost like a spa treatment. At the same time there was a ritualistic element to it. It felt pleasantly objectifying to lie still and simply be worked upon. I felt like part of a process rather than an individual participant.
With the formed breastplate now in place, Mistress Stone decided that she should both sign and decorate her work. Of course a signature requires ink, and I was going to be the one responsible for supplying that. It turned out a plentiful supply was close at end, once she'd poked some holes in the protective packaging.
Like any cheap pen, some beating and tapping was required to get a sufficient supply of ink, but she didn't seem to have a problem with doing that. At least she didn't have to resort to bashing it on the table to get it to work.
The finished article, once removed from my body, can be seen in the final shot below. The shape of it and the ritualistic signature in blood put me in mind of something from Greek mythology. An
Aegis
of my own, sanctified by a blood sacrifice, impenetrable to any blade forged by a human hand. Unfortunately, while I'm sure it would have made me a match for a
Hydra
or a
Cerberus
, I had to face a far more fearsome foe – the
TSA
. It didn't look like it would fit in my carry on baggage and I didn't fancy explaining why I had a bloody chest piece in a plastic bag at the security lines. So sadly it got left behind. It would have made a great conversation piece to put in my living room.
As always I want to extend my thanks to Mistress Stone for putting together such a memorable session. The effort and creativity she puts into her sessions is remarkable and I'm very grateful that I had the opportunity to be on the receiving end of it.