Trying to dig up dirt dirt on your political opponents is a time honored trick. Liberal Democrat candidate Dean Stone seemed to be giving it a shot when he emailed his opponent to ask if she had 'anything embarrassing' in her past. Admittedly, simply asking your opponent to simply volunteer political ammunition is pretty dumb, but at least it follows the basic formula. However, he then decided to give the old storyline a new twist, by sending her a naked picture of himself, partly dressed as a mouse and with a dominatrix. Presumably he thought she might not have been clear what he meant by 'embarrassing', and thought that a personal example might really clarify his original request.
In today's climate, it's tough to set new standards for dumb political decisions. I really thought America had this sewn up. Yet Mr Stone has made a strong play here to bring Britain back into contention. Sadly, despite his cunning plan, he ended up coming 6th out of 6 candidates, so clearly the British voters aren't on board with this new approach. Maybe he should try giving the White House a call? They seem to like out-of-the-box thinkers who can do exciting new things with social media.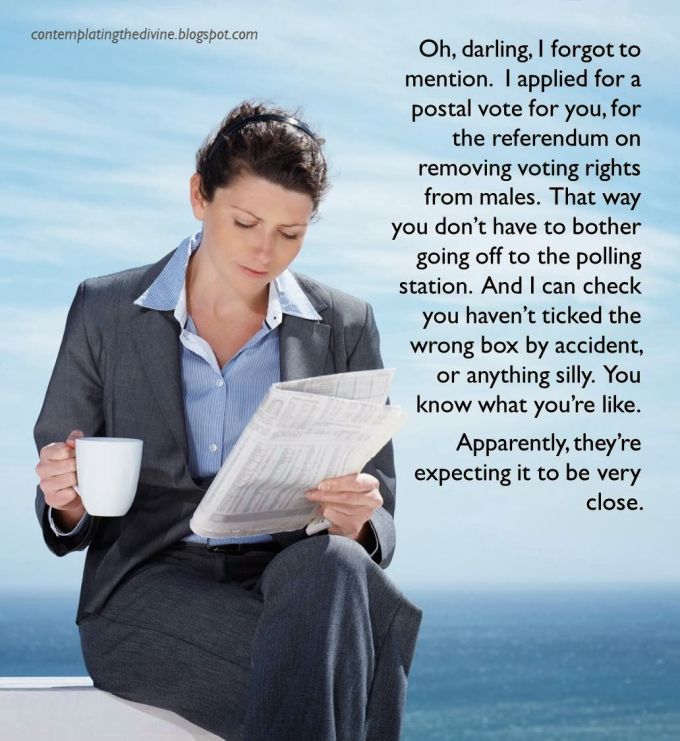 Of course if Servitor had his way, male politicians and voters would be a thing of the past.