When I was putting together Shohei Yamashiro's section in the femdom artwork page, I had an enjoyable hour or so looking through his images and picking a few of my favorites to highlight. At that time the image below didn't stand out for me at all. It just looked like a dominatrix smoking outside. Where's the fun in that?
When I went to look at the site again a few days ago, I realized what an idiot I was. Through the window behind her it's clear that some horrible torments are being inflicted on a helpless slave. This has been going on for so long she's decided to take a smoke break, and no doubt she'll be heading back in soon to inflict more pain.
Now I've finally figured out what's actually going on, the image strikes me as a very exciting one. It implies a long and extended torture session. It also implies a workmanlike approach. There's a dehumanizing aspect to it. This isn't a personal connection between dominant and submissive. It's a team of dominants working together to get the job done.
Oh, and the graffiti is great as well. Not sure if it's a reference to women, men or a fantastic song (see lyrics here)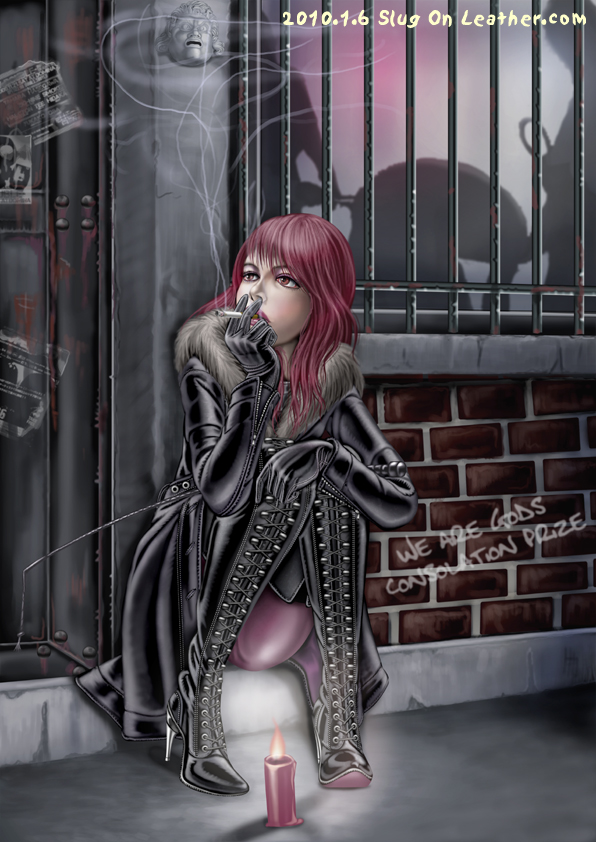 The image is taken from the smoke gallery on Shohei Yamashiro's slug on leather site.