I got the Listerine strip treatment tonight. I've never tried it before and it was certainly a unique sensation. I'm guessing it's not an approved usage of the product.
For those with no idea what I'm talking about  – imagine combining a metal urethral sound and a Listerine breath strip. One is wrapped around the other, and then pushed into a very delicate part of the body. It doesn't do anything for you breath, but you do end up with a minty fresh penis. Albeit, with a fair amount of groaning and thrashing about along the way.
I've no idea who invented this devilish technique – I first heard of it via Mistress Matisse –  but I enjoyed tonight's dose courtesy of Ms. Savannah Sly. Apparently I got off lightly, as the cinnamon flavors are considerably more painful. To make up for that, there was a lot of pinching, slapping and stapling also added into the mix. It was a great session that left me buzzed, aching and just a little tingly.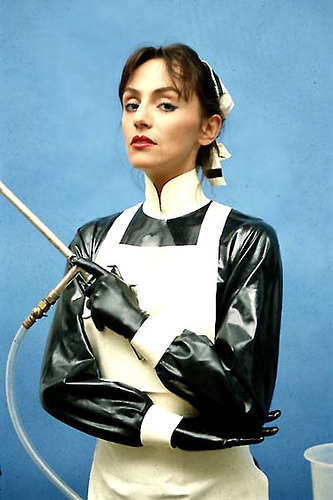 I'm not sure who this is a photograph of, but she looks well equipped to administer all sorts of strenuous treatments. Breath strips placed in delicate places might be the least of your problems.
As always, if anyone can help me attribute this photograph I'd be grateful. I've seen it posted in many places, but never tracked down the original source.