Posts tagged
steelwerks

I've posted about steelwerks before. They're makers of some of the most creative and beautiful chastity devices currently available. This piece, with its funky gear motif, is a little different. I'm not sure if you'd describe it as a chastity device, or a pleasure device or a torture device or what. In their words it's a 'electric cage'. Regardless of classification, it's certainly a striking piece of art and engineering.
If you really want to see it in action, the owner posted a video of it. Note that the entire video is a close up of a penis encased in this device, so if you're the kind of person freaked by such images, don't click. And don't say I didn't warn you.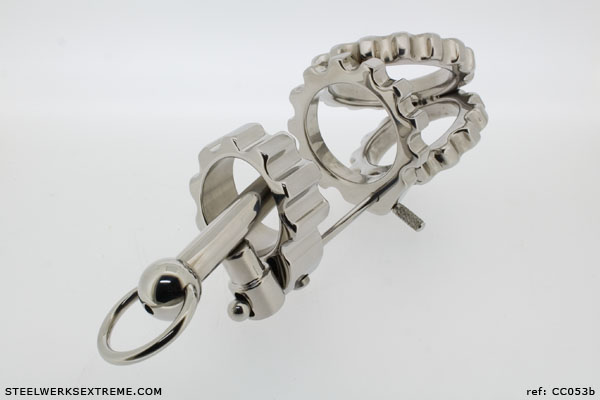 While writing my earlier post on chastity and orgasm denial I got distracted for a fairly length period browsing the steelwerks site. They make some of the most interesting and creative chastity devices I've seen.
This particular one, while impressing me with both the design and the beautiful engineering, makes me shiver a little. Note the spiked screws that penetrate through the thick surrounding bands, and the long curved prince's wand in the centre. According to their blog post it's a 24×7 device, not just for playtime. If someone is really walking around with their penis trapped in this for extended periods, then I can only salute their dedication and marvel at their level of masochism.