Enlisting a domme to write an articles on kinks and fetishes is a common technique these days to attract a few clicks with some titillating content. They tend to vary from blandly boring through to offensive kink shaming, with just the occasional interesting gem. Sadly, this one from Metro, written by Miranda Kane, is no gem. It starts off with a kink shaming title, before veering into the stupid and dangerous. Specifically this part on CBT…
But beginners can't go wrong with investing in a pinwheel (…) and urethral sounding rods (which are metal sticks that go in the pee-hole).
Urethral sounding rods for beginners? I'm not sure you could pick something less suitable for CBT for beginners. I guess scrotal inflation? A crown of thorns?
Urethral sounds are a super specialized toy. They're very intimidating for a lot of people. They require a particular technique to use, so you don't risk tearing any delicate internal tissue. If you're not careful about handling and sterilizing them, there's a risk of introducing bacteria into the urethra and getting an infection. Not to mention, as a sensation they're not even that tortuous, so not really CBT at all. I always enjoy experiencing them, and think they're worth exploring for those with a bit of kinky experience, but they're not for anyone wanting to torture their first cock.
How about clothespins? Or a little slappy paddle? Or just pinching and biting? There are about a thousand ways to try out CBT at lower cost and lower risk.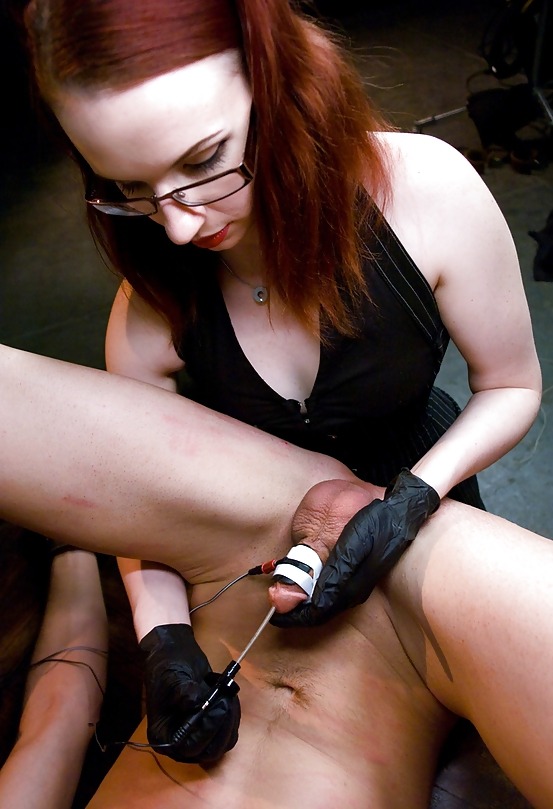 This is Clair Adams in a shoot with Nomad for kink.com. I think this counts as the super advanced CBT class – an electrified urethral sound. Definitely one of the more unique sensations I've ever experienced.