One of the weirder elements – of what has been a seriously weird year of politics – has been the rise of the term 'cuck' or 'cuckservative'. As this GQ article explains, it's an insult used within the right to suggest someone is weak and reluctant to take a firm conservative stance. The derivation is obviously from the sexual kink of cuckolding.
Personally I don't really care if the American right wing beats itself up, but I do find the term puzzling. The key element of cuckolding is surely the 'cheating' aspect and the feelings that provokes. By definition it needs at least three people, with one of them getting off on being spurned and denied. Maybe the cuckold gets off on the woman's pleasure, or masochistically on the humiliation and rejection, but either way it's a secret source of enjoyment. Do how does this dynamic map to the insult? If Donald Trump is the bull and Jeb Bush the cuck, who or what is the woman? How is the cheating happening? And is Jeb supposed to be getting a thrill out of it? It doesn't really make much sense to me.
If nuts on the right want to raid the BDSM lexicon for insults, then surely 'sissy' would be a much better word to steal. That has no trio dynamics, and aligns more closely to the intended meaning of weak, effeminate and insufficiently red blooded. It even works in the longer form of 'sissyservative'. That's not to say I'd personally use or support such a term, but at least it'd make a bit much logical sense. Although in the current climate, logical sense is perhaps expecting too much.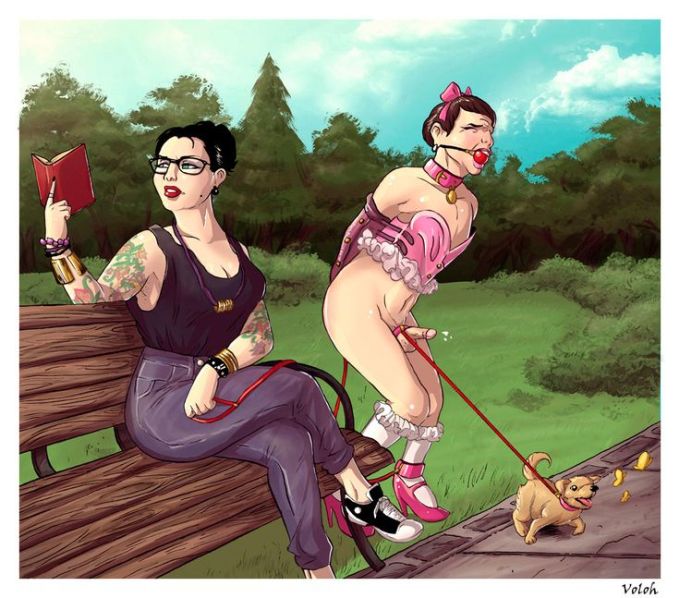 This sissy artwork is by Voloh. You can see more from the same artist at his imagefap account and on hentai foundry.