O Miss Pearl is the latest blogger to venture into the debate around the intersection of pro and non-pro female dominants. She has two recent posts on the topic here and here. I'm going to try and avoid getting deep into the details of her posts. I've touched on similar issues in the past (e.g. a series of posts on kink and money here, here, here, a debate with DD here), and while I may quibble about parts of Miss Pearl's posts, I do agree with the majority of her points. I'm a huge fan of pro-dommes in general, but I still think it's a bad thing that they're commonly seen as the primary representation of female domination.
I will say that I think it's important in these discussions to avoid purely binary classifications. There's not a single type of pro/client interaction, in the same way there's not a single lifestyle interaction. These things exist on a continuum. There's also not a single role that people are uniquely assigned. It's often acknowledged that a pro-domme may also be a lifestyle dominant, but that same flexibility should also be attributed to her clients. It's not wrong to occupy multiple categories. What's wrong is to take a dynamic unique to one and apply it to another. Pro-dommes aren't looking for a date and lifestyle dommes don't exist to service male submissive fantasies.
Shortly after reading Miss Pearl's thoughts I came across this post by Ms Maya Midnight. She's talking about clients who ask for an 'easy session' and what a pain in the ass they usually are. Their definition of what an 'easy session' is rarely chimes with hers.
My definition of an easy session is one where I can wear and do more or less whatever I want — or at least have a very wide variety of enjoyable activities to choose from. It also means an easygoing, responsive sub with good communication skills who doesn't top from the bottom. It does not require much if any prep.
I thought it made for an interesting statement in the context of the pro/lifestyle debate. Often the complaint from lifestyle dominants is that guys expect them to dress like a fetishists wet dream and focus with laser like intensity on the submissive's very specific fantasy scenarios. i.e. The stereotypical pro/client scenario. Yet, for a pro, her best clients are those who care about the dynamic (rather than an activity or outfit), communicate well and actually submit. I suspect the above list of attributes would strike a cord with lifestyle dominants just as much as professional ones.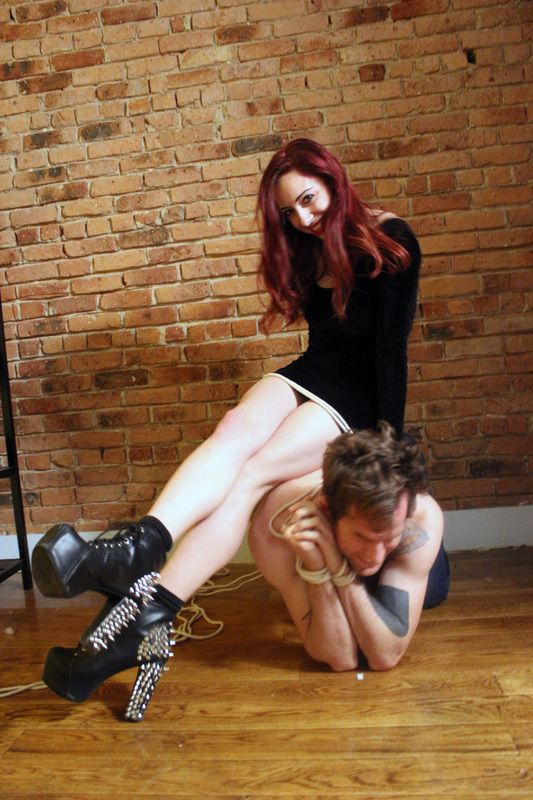 The image is taken from Ms Maya Midnight's website. She's a NYC based pro-domme. Her interests and a link for booking a session is available here.