Posts tagged
Pro-domme

A few different interesting posts have caught my eye recently. Apologies for those who read my blogroll religiously and have seen all this before, but I thought I'd use just this post to point them all out at once.
Firstly, thanks to hmp's recent post for the pointer to the Masocast with Irene Boss. For those that don't know her, she's a very well known pro-domme and BDSM film producer. It's a really interesting masocast episode and well worth a listen. I particularly enjoyed her memories of OWK, which sounded like a really unique femdom experiment.
Anyone interested in a fairly unusual and entertaining way to torture their slave might enjoy Mistress160′s description of the Xmas Orgasm torture she invented. I read a lot about chastity and denial, it's a little more unusual having a series of forced and timed orgasms over a relatively short period.
Ferns has just the cutest post describing her recent trip to a fetish shop. Reading it made me feel happy inside. It's great that the woman she met was confident enough to explore and ask questions, and lucky that she bumped into Ferns. I have difficulty picturing the same scene in the average US sex shop.
Finally this image from Contemplating the Divine made me laugh. Bizarrely it reminded me of me. Sadly not because I look good in jodhpurs and tight black leather, but because she's exhibiting exactly the same attitude I do at work. Anytime someone suggests we should agree to differ I tend to take the line: "No. You can choose to stop arguing, but that's not really the same thing. You'll still be wrong." I'm most definitely a top when it comes to work.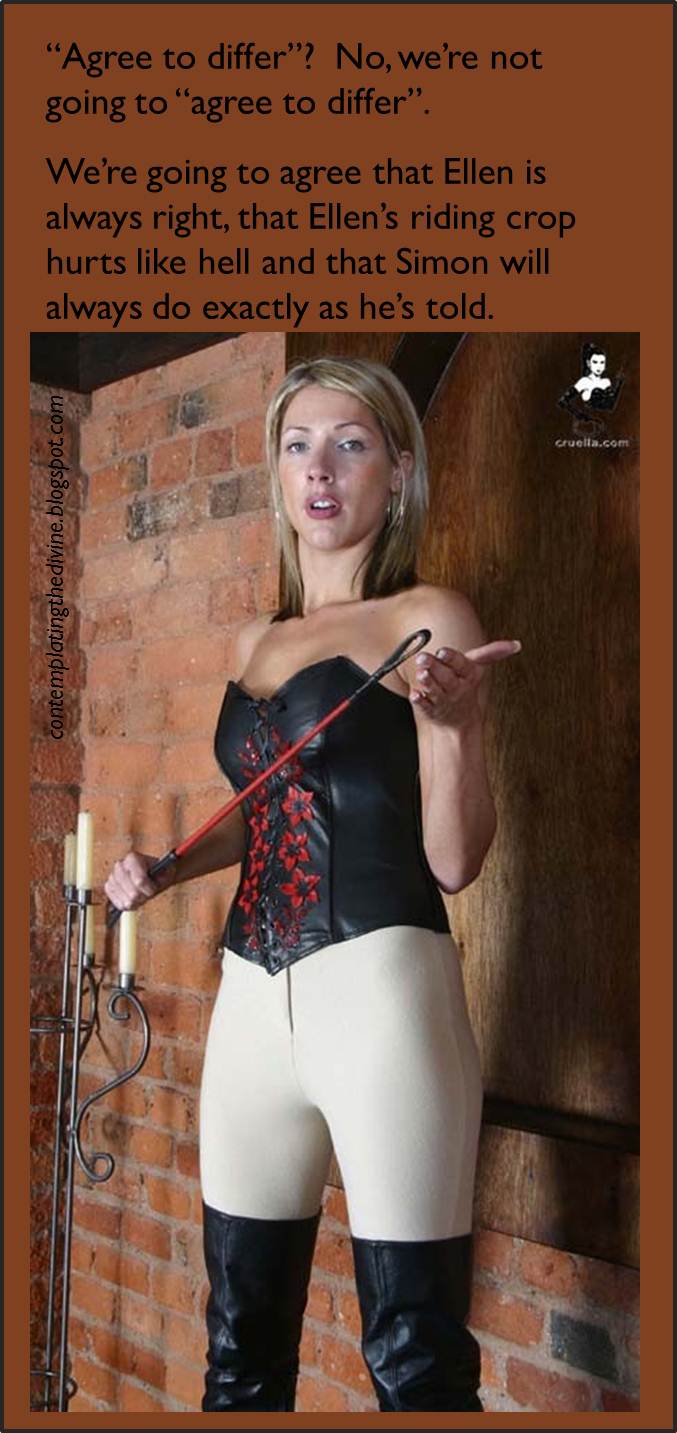 (There's actually another way this captioned image reminds me of me, but I'll keep that particular reference to myself).