I finally got around to watching the documentary on the Kink film studios by James Franco. Not sure why it took me so long, given I blogged about it being available on Netflix back in 2015, but there we are. Verdict: OK but not great. Probably if you knew nothing about BDSM then it'd be eye opening, but for me, and I suspect most of my readers, it was watchable without being particular deep or informative. On the plus side, it did have a good balance of Fm, Mm, Mf, etc. I was concerned it'd be heavy on the Mf side, but it was pretty even with a lot of screen time for people like Maitresse Madeline and Princess Donna.
One thing that did surprise me was the lack of experience that a lot of the performers demonstrated. Some years ago, a pro-domme who'd actually filmed a number of scenes for the studio told me  – with some disparagement in her voice – that the directors really drove the scenes and the performers did as they were told. As someone who liked to create her own scenes with their own dynamic, this wasn't a happy situation for her. Having watched the documentary, I can see what she meant. The directors and Kink employees were obviously experts, but some of the performers seemed to be fairly inexperienced with BDSM techniques. I'm certainly no expert, but I think my scene negotiation is crisper and clearer than one of the early Fm shoots they showed. The guy who was about to do a submissive role on camera seemed initially confused by the concept of caning, and was pretty vague in most of his answers. I guess the overlap between experienced BDSM players and hot, fit people willing to appear on camera is smaller than I thought.
As far as the documentary structure goes, I think they'd have been better off picking a very inexperienced new kink performer, along with an experienced older performer, and then following their personal stories. That character focus would have made for a more relatable film, and allowed them to dig deeper into the why and how people get involved in both BDSM and BDSM porn. All that said, it was a positive documentary that showed kinky people in a generally good light, so that's at least a win.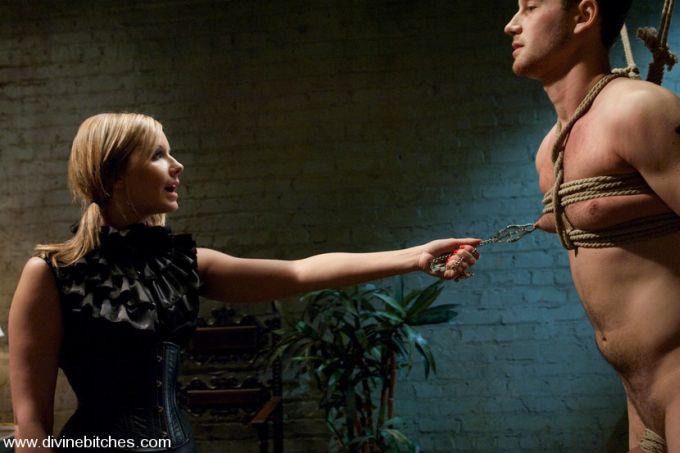 This is Mistress Madeline with Curt Wooster in a shoot for Kink's Divine Bitches site.