My short sojourn in San Francisco has come to an end. Happily it finished on a high, thanks to a wonderful session with Domina Colette.
This was the first time we'd played together and initial meetings always have a touch of extra stress about them. Fortunately, any nerves quickly dissipated once we started talking and then easing into the scene. Sometimes you just know a session is going to be a great one right from the start. I'd like to think that's about chemistry and shared energy, but I suspect a big part of it is down to the skill of the dominant in carving out a safe virtual space for the scene to unfold into.
Compared to the two sessions from the start of my trip, this upped the masochistic side slightly, whilst still retaining a lot of tease and denial elements. I particularly enjoyed Domina Colette's very hands on approach to nipple torture.  Often when doing CBT and NT, there'll be  a lot of the C and the B, not some much of the N. Slap a pair of nipple clamps on and then immediately head south frequently seems to be the approach. Colette took a much more balanced approach, mixing pain and pleasure between the different areas, and using her touch to alternately ground me, tease me and hurt me. She promised me a lasting memento of our session, and the tenderness across my chest the next day was certainly that. Just the movement of my clothes against it would trigger a mild wave of pain and then a happy smile.
If you're interested in the possibility of a session with Domina Colette, or just want to see more images like the one below, then her professional site is here and her twitter feed here. She also has a passion project called Pervette, which I think deserves a post in it's own right. It's kind of a choose your own adventure, transmedia labyrinth and storytelling guidebook. Check it out and I'll return to it in a future post.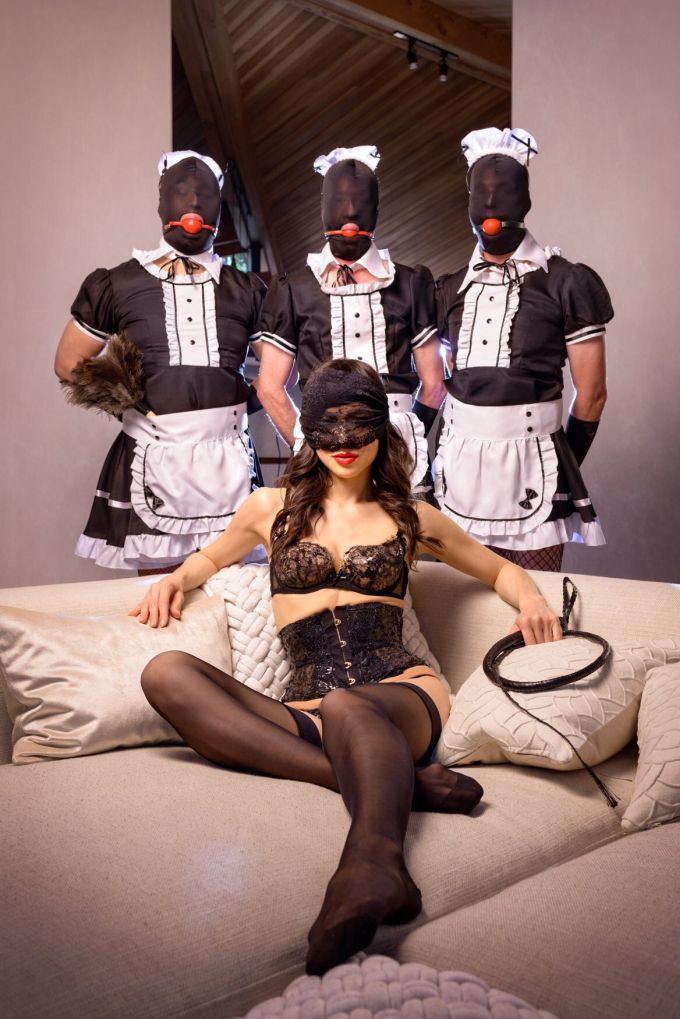 This image of Colette and her silent maids is from her twitter feed.