Speaking of kinky cause and effect – as I just was – corporal punishment and impact play is another interesting example of an arguably misattributed cause. It used to be said that the English love of spanking and flagellation was derived from the use of corporal punishment in school. As a theory, it seems to make sense. Boys just coming into adolescence and packed with sexual energy were being beaten, and then transmuting that trauma into a kink. Hence, we ended up with the English Vice.
The flaw in this claim is that corporal punishment has been banned from British schools for a long time now, yet it still seems to be as popular as ever in kink. It's also popular across a wide range of countries, even those that didn't think beating children was a good idea. Personally, I was never beaten as a child, but corporal punishment scenes featured heavily in my fantasies in my 20's and 30's.
Obviously to prove the case one way or another one would need to do a proper survey and analyze kinky preferences over time and culture. It's possible that corporal scenes are a lot more popular with a certain type of older British male than in the rest of the kinky community. But my suspicion would be that while corporal punishment in school might have colored peoples kinks, anyone who ended up indulging in it later in life would have been kinky anyway. Those submissives who were spanked or caned as children draw a correlation, where those who weren't simply shrug and don't worry about why they like it.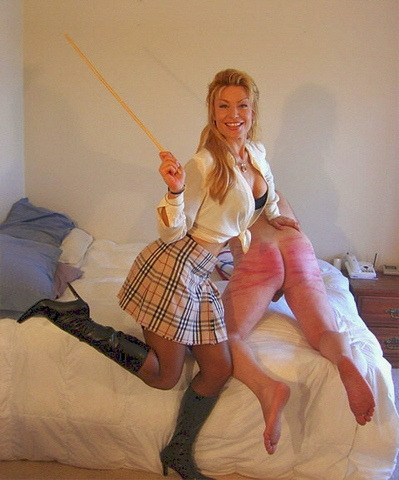 I'm afraid I've no idea who shot this picture of this happy lady caner.