Mistress Ayn has wise words to share for anyone who wants to avoid passing out while playing.
I can't comment on the effect of erectile dysfunction drugs or eating erratically. I've not tried the former and my eating schedule is weird at the best of times. However, this part definitely resonates…
When placed in standing positions. like on the St. Andrews cross, don't lock your knees.
I've come close to fainting a few times, and on every occasion I was in a vertical position, I was tense, my knees were locked and our play was intense. The end result was a classic Vasovagal Syncope response and a concerned domme, keen to get her suddenly ghost white submissive into a non-vertical position. It's interesting to note that the causes listed for a vasovagal syncope response include standing for long periods, heat, fear of bodily injury, seeing blood and straining. Which clearly align with some types of BDSM play and the points Mistress Ayn makes.
My advice would be to avoid vertical positions for any new types of intense play. For example, always lie down for a first piercing. When standing is required, ensure knees can bend and are regularly flexed, focus on breathing deeply, try and relax into the pain and wiggle the torso and hands whenever you get the chance. From the domme side, a smooth escalation and deescalation of pain can help the submissive adapt to the rhythm, and regular physical contact can keep them grounded in the moment.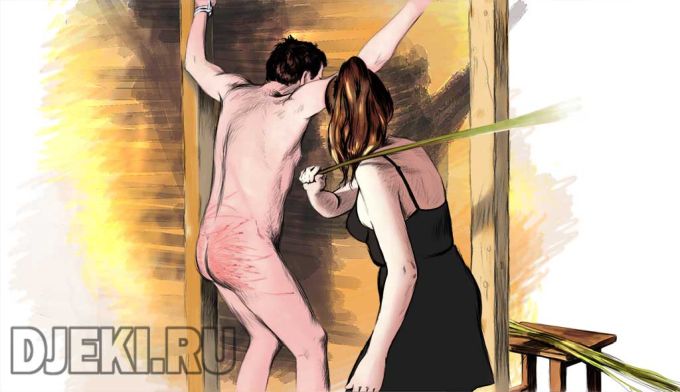 This gentleman clear has the right idea. He has a good knee bend going and it looks like he's wiggling his torso. She should really be able to ratchet up the intensity.
This is from Djeki spanking artwork site and specifically this gallery. If you like their artwork, it appears they have originals available for sale.