Posts tagged
chastity

Buying Christmas gifts for friends is always tricky. You don't want to create a problem for them by sticking them with something they don't like or can't use. My circle of friends often defaults to wine, which leads to a lot of pointless circulating of bottles between us. Fortunately I have one friend with imagination, and she got me one of my best presents ever – a vintage vibrator.
The device in question can be seen below, with a couple of alternate angles here and here. She actually inherited it from a relative who collected antiques and vintage mechanical/electrical devices. Apparently her partner commented that it looked like it'd be very painful and you'd have to be crazy to allow it anywhere near your private parts. For some odd reason that immediately brought me to her mind, and I therefore had the pleasure of unwrapping it in a busy Seattle restaurant. I'm sure our server at least got a smile out of it.
Anyone surprised that vintage vibrators even exist should check out this article on their history. They were originally developed to 'cure hysteria' in women around the end of the nineteenth century. In a nice bit of Victorian double-think, since women weren't sexual then using a device to induce a 'hysterical paroxysm' wasn't sexual either. It was just a useful medical technique. They were even openly advertised in housekeeping magazines of the time. Here's an advert I managed to track down for my very own device. Apparently I can look forward to a clear beautiful complexion and wonderfully attractive hair.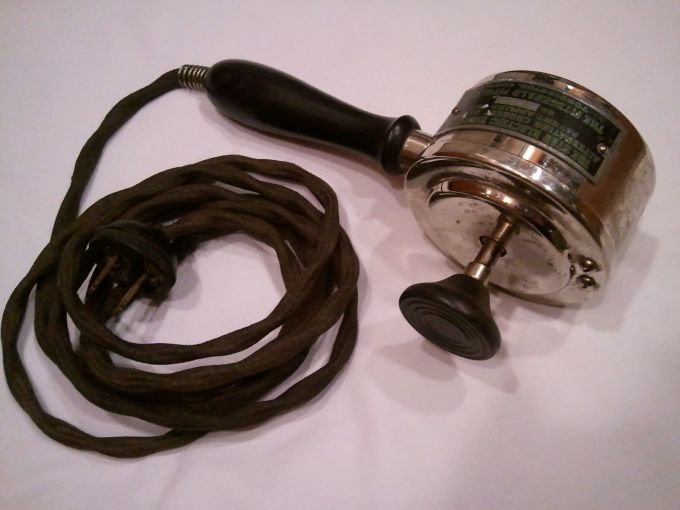 From a kinky perspective, the most dangerous bit looks to be the old frayed power cord. Nobody wants to get involved in some inadvertent electrical play at 120V.
Although vibrators are traditionally associated with inducing pleasure they can also be used for some interesting orgasm torture. Forced, ruined and denied orgasms are all fun kinky options. The shot below features Lexi Sindel forcing an orgasm for a man in chastity, which must be particularly uncomfortable. You can click through on the image to see the animated gif at the Femdom Empire blog.