Recently I've been fantasizing about cock cages. That might not seem like hot news. Submissive guy has chastity fantasy – hold the front page. But I've actually been fantasizing about other guys in steel cock cages. And I'm still straight, or at least I was the last time I checked.
What prompted this was hanging out in Los Angeles restaurants and observing groups dining together. Many of them seemed to consist of very average but loud men dining with very attractive but quiet women. There's nothing unique to LA about that combination, but it seems more prevalent here. There's something particularly annoying about watching overweight guys in badly fitted suits holding forth at great length about their latest business deal while their female companions sit back and nurse their drinks.
The male ego is particularly unattractive when displayed so blatantly. What cheered me up was to imagine them all wearing expensive steel chastity devices, shifting around uncomfortably beneath their Zegna suits. They might have been boasting to their buddies over the steak course, but in my fantasy the ladies held the key to their devices, and then fucked them brutally when they got home. Who knows, it might even have been true in some cases.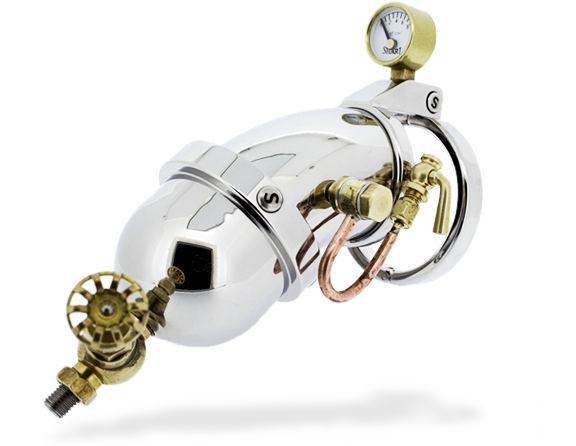 Talking of cock cage fantasies – here's a great one from Steelwerks. This is the steampunk cage.