Writing yesterday's post on the new experiences I enjoyed with Mistress Cynthia got me thinking about the dynamics of doing new activities. More specifically, doing an old activity for the first time with a new play partner. There are a few different ways to approach this, and one of them niggles me every time it happens. I'm not sure it rises to the level of a pet peeve, but it's something that I think is worth raising awareness of.
Some dominants don't care what I've done in the past. They just pull out the toys they have in mind to use and get on with doing their thing. Others ask in order to gather information they can use. If it's a new activity then maybe they'll build intensity more slowly or check in more often. I'm perfectly happy with either approach. What I find odd is when a domme will be visibly disappointed if they discover the activity they've decided on isn't a new one for me. Sometimes they'll almost seem to be verging on frustration that they can't 'surprise' me with a particular toy or new experience. I've had session where, after this kind of exchanged had repeated 3 or 4 times, I almost wanted to start lying and claiming ignorance, just so we could get out of that repeated negative interaction.
I've tried out a lot of different kinky activities over the last few years. That's not down to any skill or achievement on my part. I'm just lucky to have had the time and opportunity to do a lot of different session with experienced dommes in well equipped spaces. So it's pretty rare to find a fairly general activity that's both inside my limits that I haven't tried at some point. Yet, in all that time, I've never once thought to myself "Oh, we're doing this shit again. Let's get through this as fast as possible so we can get to something different." I've had sessions ranging from just OK to awesome, and that difference has never been made by the uniqueness or novelty of the activity. The quality of the experience is always about the dynamic between myself and the domme and our interaction in the moment. The way every scene unfolds is unique, even if some of the building blocks repeat. Or to put it in cruder terms, I've jerked off a fair amount over the last decade or three, and I've never got bored with that activity, so let's assume that novelty isn't the deciding factor in how fun something is.
For any dommes out there, I'd suggest always treating past experience with an activity as a positive. It means the submissive will probably be able to give good feedback during it and will have greater capacity for handling it.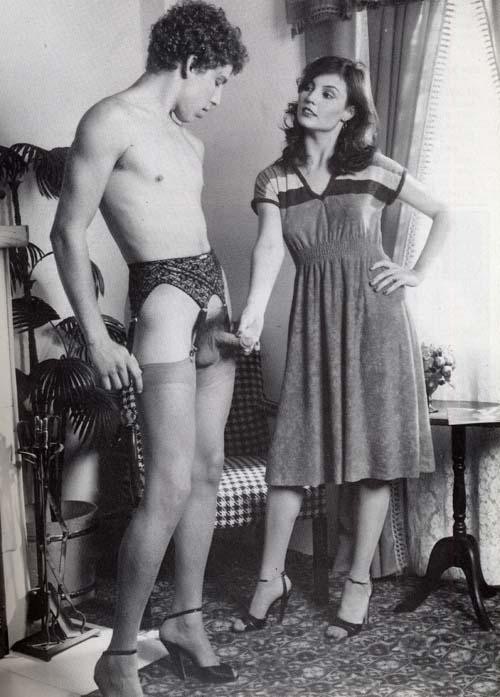 Given the post subject matter I thought it'd be worth trying to pick an image of an activity I've not really tried. So here we go – cross dressing. There was a domme 6 or 7 years ago who put me in stockings a few times, but apart from that I've been lingerie free. I'm not sure of the source of this vintage picture, but that young guy is carrying that outfit off pretty well.