Posts tagged
CBT

When I was catching up on my blog reading over the weekend I came across an interesting sequence of posts by Lady Anna List. They described a heavy imprisonment scenario, featuring bondage, isolation and sensory deprivation. You can read them in part 1, part 2 and part 3 of a series entitled Incarceration. What particularly caught my eye was the comment about a panic attack during the scene.
He'd fallen asleep and woken up before feeling the entire world closing in around him. Experience has helped him before to talk himself out of his impending attack…
…I'm not sure I would rescue him because this is something he has to get through so he knows he can get through it again in future extreme bondage situations.
That got me thinking about the nature of panic and how we experience it, which in turn led me to this fascinating paper on the subject. It's fairly readable for a scientific paper and it contends that panic is an evolutionary response to dangerous situations. There's first a tendency to freeze (so a predator won't spot us), and then a physical response to divert blood, suck in more oxygen, release cooling sweat and tension muscles before fleeing for home and safety. The paper also talks about agoraphobia, an anxiety disorder where panic attacks can strike out of the blue in everyday life. These panic attacks typical occur in certain locations (wide open or enclosed spaces), or in certain situations (being in crowds of strange people or being far from home). These are scenarios which from an evolutionary perspective represented specific threats, such as being exposed with nowhere to hide, or encountering a number of strangers from outside your tribe.
I found it fascinating because there's a tendency to think about panic as being purely a mental process, as something you can think your way around. And it's true that you can condition yourself against it by repeated exposure and positive reinforcement. But the basic response itself is a very deeply embedded one, with real physical manifestations. Nobody would think of telling an agoraphobic to simply snap out of it and think themselves better. And yet I find there's sometimes a tendency to see panic as a weakness or mental failure in a submissive. In fact it's really just a million years of evolution doing it's thing. Like the primitive drives for sex or food, it's all about maximizing the chances of passing the genes on.
The other interesting takeaway from the paper was in the final section, where the author talks about the difficulty of studying panic in the laboratory. He should get out the lab and into his local BDSM playspaces. I can guarantee his local dommes will have a wide collection of experimental subjects they can push into carefully controlled panic situations!
I'll leave you with a shot of an item that is great for pushing my panic buttons – a hood. That tight enclosed feeling gets me every time.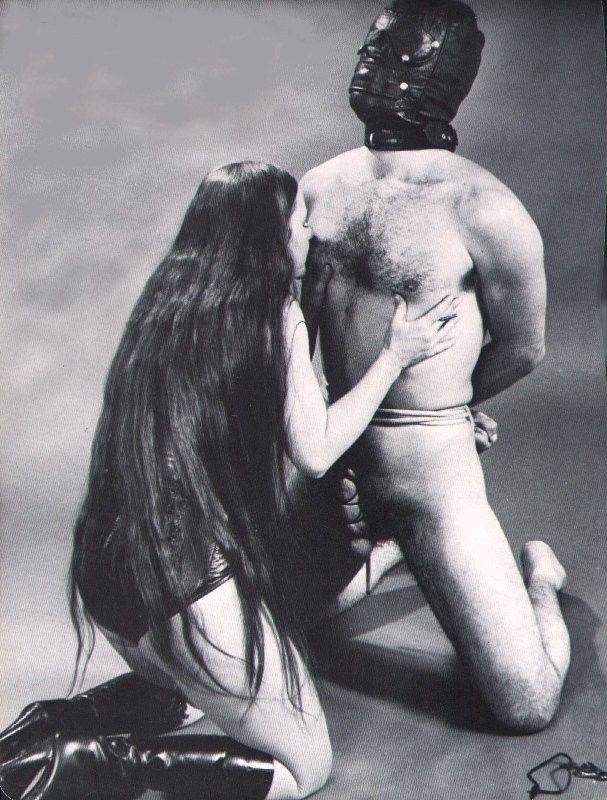 I found this via the clitlickslut tumblr.