Posts tagged
CBT

There might have been little attention paid to kink and BDSM at AVN, but one of the winners does have a femdom connection. Riley Reid, who picked up the Female Performer of the Year award, has done a number of shoots for Femdom Empire. She's one of a growing number of conventional porn stars who seem to be happy to cross over and shoot kink.
Years ago there was a fairly clear distinction between people who shot BDSM and those who shot conventional porn. That now seems to be breaking down. Partly I suspect that's down to the growth of BDSM porn and the larger professional studios shooting it. However, I'd guess that an even larger factor might be how often regular sex (PIV, oral, anal, etc.) now gets mixed in with more hardcore bondage and pain shots. I think that mixture puts off a lot of potential BDSM performers, particularly dommes. I've talked to several who wouldn't shoot for kink.com anymore because sex in a femdom scene was considered part of the shoot. Instead they decided either to not shoot or stick to their own clipstores where they had more control. This in turn opens up opportunities for regular porn stars who don't mind mixing sex and kink. So it has been less a simple removal of barriers, and more an expansion of regular porn and retreat of BDSM specialists.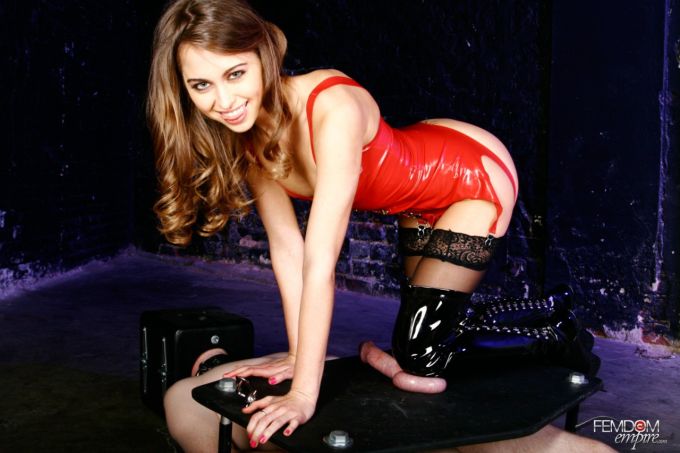 Here is the aforementioned Riley Reid demonstrating some of the skills and attributes that made her female performer of the year. I hope the owner of this pair of testicles feels that he contributed in some small (painful) way to her ultimate success. This was obviously shot for Femdom Empire.