It continues to be about eleventeen bajillion degrees in Seattle (apologies if my highly scientific terms are too confusing). It has also been a couple of weeks since I did anything kinky. Or at least anything kinky involving another person. Having my portable fan topple onto the bed when I was jerking off almost qualified as CBT, but coming close to inadvertent circumcision by domestic appliance isn't really a fetish of mine.
This excess of heat and dearth of kink is making me antsy and grouchy. I realize there are now many kink deprived readers from hot parts of the world cursing at their monitors after having read that. As problems go it's not the worst one to have, but it's my blog, and I'll whine if I want to.
As for posts, I'm therefore maintaining the hunt for cool refreshing femdom. This one from Divine Bitches is an intriguing but odd image. I like the fountain, but why the head first dunk? He looks like he's playing the old Halloween game of bobbing for apples. Perhaps she has thrown his chastity key in there?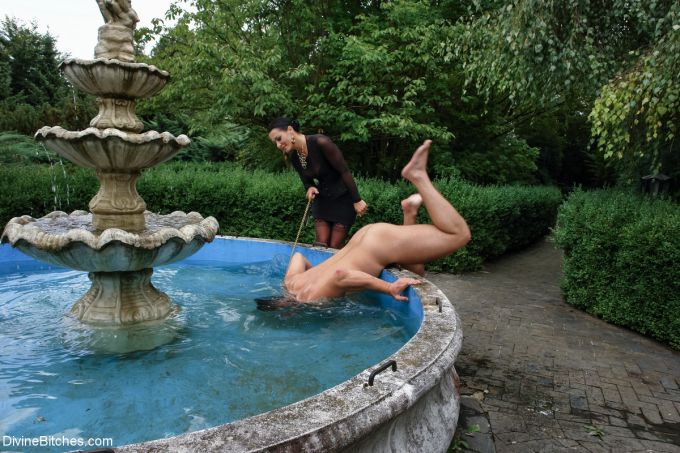 I found this on the Femdom Times site.