There has been a bunch of debate on social media recently about how open to kink Pride events should be. One side maintains that kink should be kept indoors and making Pride family friendly is important. The other side says that kink has always been an important part of Pride, and we shouldn't be embracing corporate sponsors and mainstream coverage at the expense of slicing up the community.
You can probably guess where I stand on the issue. It seems pretty messed up to have huge corporations like AT&T sponsoring events while at the same time telling some segments of the LBGTQ community they're not welcome. Young children will think all the costumes are fun and older children will be more aware of and switched onto the issues than their parents. The only people who'll be offended are the same people who say "I don't mind what people do, as long as they keep it private." In other words, their standards should be the community standards and everyone else should fit into their world view. Fuck those people.
Of course, the irony here is that I hate crowds, marching and doing anything before midday. So while I'll make it to the latter parts of Seattle pride to applaud and cheer, I'll not be in the parade and certainly not be dressed in anything outrageous. If I was going to take a kinky outfit public, this cartoon definitely represents my preferred option. After all, everyone likes a friendly dog.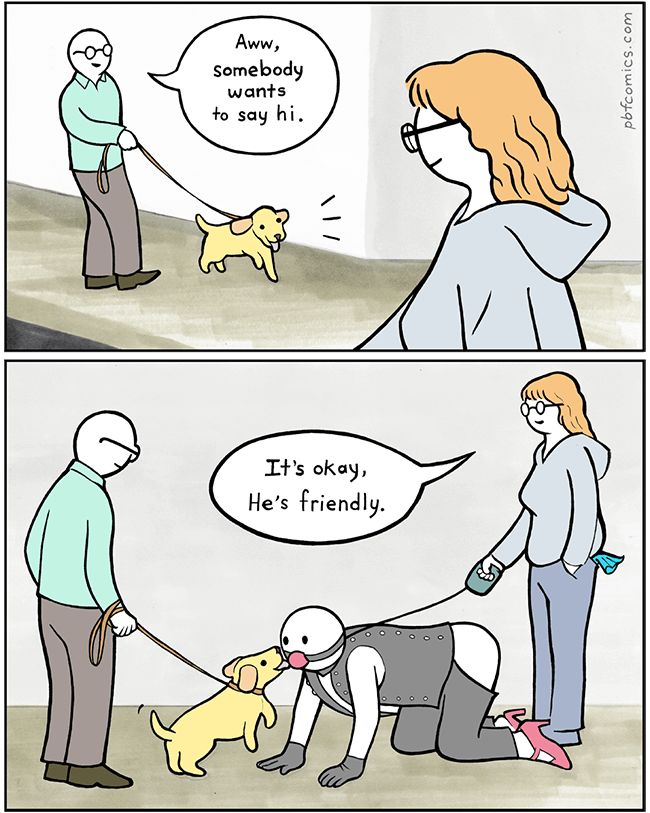 This is from The Perry Bible Fellowship (original is here).