The Girl on the Net has an interesting guest post entitled 'Choosing Love Over Kink.' You can go read it for yourself, but the title is pretty self-explanatory. It's written by someone who is clearly deeply kinky but has chosen to settle down with someone who isn't.
My initial reaction was to think of all those bloggers, forum posters and Savage Love letter writers who are stuck in unsatisfying relationships with exactly this problem. It's easy to point to examples where sexual incompatibility has destroyed relationships. Yet one has to be careful about observational bias (aka the Streetlight Effect). Unhappy people tend to be loud and vocal. Kinky people who have successfully suppressed their desires for the sake of a specific relationship are typically not going to be posting online about that fact. Perhaps the world is full of sexually incompatible people with great relationships based on other factors.
That said, I am one of life's natural cynics, and find that unlikely. It's true that all relationships involve negotiation and nobody gets exactly what they want. Unimportant things can be discarded while important things can be compromised. Unfortunately, sex is an incredibly important thing, and there's no compromise involved in this story. In fact, if you're fundamentally sexually mismatched, I'm not sure compromise is even possible. It's also my observation that points of tension in a relationship don't become less important over time. They're the bit of grit that rolls around jamming up the works.
Of course as a single guy who has never been married, perhaps I should keep my observations to myself. I'm not exactly the go-to expert here. While I ponder that depressing thought, I'll leave you with a scene of domestic bliss. Hopefully this gentleman's idea of sexual compatibility involved nipple clamps and ironing.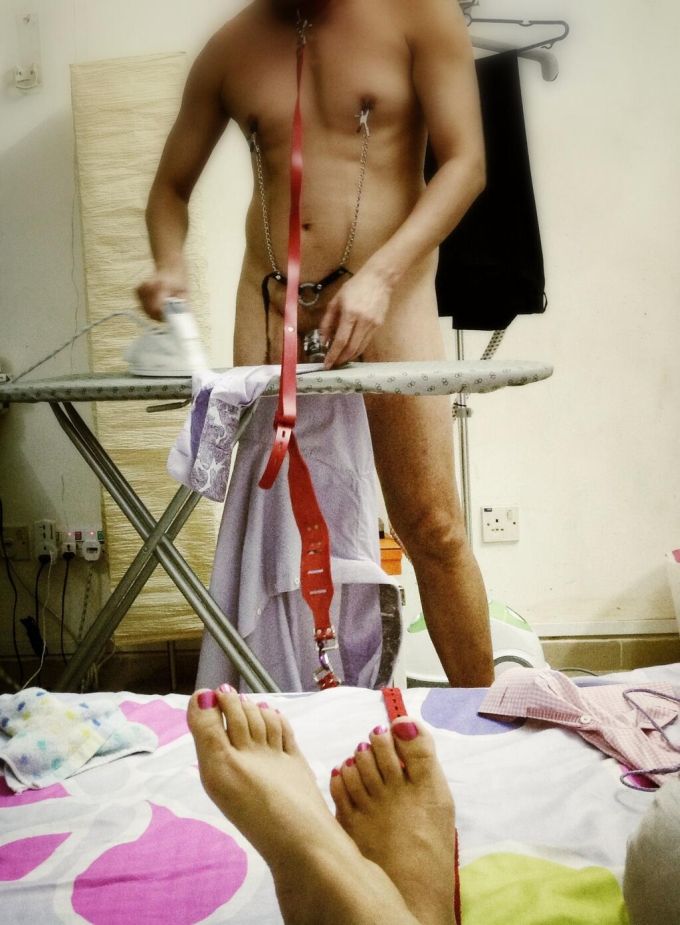 I'm afraid I don't have an original source for the image. I found it on the Seductive Domme tumblr.